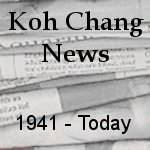 Bangkok Post – 23 April
Last week, members of the Art for Ocean group, a gathering of artists who focus on environmental issues, hosted a special workshop to raise awareness of the declining numbers of elephants   – our national animal –   and the destruction of marine life on the coast of Thailand.
The workshop produced a fibreglass model of an elephant and attendees created artwork on the model. Once finished, it will be exhibited at the Thailand Travel & Dive Expo, Queen Sirikit Convention Centre on May 11.
To celebrate the 84th anniversary of HM King Bhhumibol and foster environmental awareness, Art for Ocean invited artist Angkarn Kalayanapongsa to make nine model elephants. In May, these life-sized artworks will be placed 10m underwater at Koh Mak Island to create an artificial reef for marine creatures.
The reef will also become a tourist attraction for divers to view underwater art and learn more about the project and the environment.