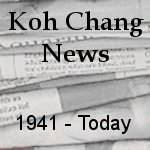 TTR Weekly – 2 July 2012
Mak Island has been selected as Thailand's first low-carbon holiday island by the Designated Areas for Sustainable Tourism Administration.
It stands a good chance of success because it is part of a designated DASTA responsible area (DASTA Area 1, Moo Koh Chang and Related Areas) and is on a small enough scale to be managed properly.
The earliest initiative to promote low-carbon tourism on the island was the Koh Mak Bike Trail project. Surveys were done and trails crafted with the first guidebook launched in 2007.
Five years later, I returned to the island to try a bike ride on the island and my conclusion was that Mak Island is an excellent choice to explore by bike. However, there are glitches that need fixing to make it really cycle-friendly.
One of the outstanding advantages is the island's comparative small size at just 3,800 acres. That is about 13 times smaller than Chang Island. Also the 30 km of roads are generally flat with a few gentle hills to test your strength making it fine for novice riders.
Roads are mostly surfaced in concrete. There are a few dirt trails here and there mainly linking plantations. There is very little traffic, but bikers should watch out for the occasional pick-up truck because the roads are narrow.
It helps to know how the mountain bike works as far as gear changes go and how to brake properly as there are some steep inclines when you will need to brake to control your speed.
Due to the thick vegetation, pedaling around is pleasant and less tiring. The island is covered with fruit, coconut and para rubber trees. This makes many parts of the roads shady.
Bikers can ride through private plantations, but some plantations put up no entry signs which is really to prohibit motor bike users rather than cyclists.
This is an obvious challenge for Mak Island as motor cycles are anything but low-carbon friendly. Tourists tend to prefer motor bikes as the weather is hot and humid, while villagers can make more money off the rentals.
Local authorities are looking for alternatives to reduce the use of fuel-driven vehicles. Electric bikes and golf carts are a solution, but they still need an electrical charge and that is expensive and burns fuel.
Cycle rentals are available at some of the island's resorts and shops, but more could be done. Actually if local authorities are serious about promoting cycling, they or DASTA should invest in bicycles and provide them free of charge, instead of spending millions organising promotional events that have no long-term benefit.
Another problem is the lack of signs. There are some stating the name of main roads, but not for lanes. DASTA had also installed signposts that identify the trails, but they are limited to a name codes and an arrow. Those who do not have a guide book would not have a clue as to their meaning.
There are only a few guidebooks available after the first edition was printed in 2007 and the local administration has just gained a budget to print the second version with the help of DASTA. The book could be sold to help support green tourism and the up-keep of the routes.
I would also recommend a guided tour with a local leader so tourists can learn more about the island and the village economy linked to fishery, fruits and rubber.
The guidebook
The 2012 version in English and Thai has a revised map with details on accommodation and bike rental shops, places to eat, kayaking routes, snorkeling possibilities around the island and how to handle mountain bikes and travel manners.
There are three cycling routes: A (north), B (east) and C (south and west) and each route can also break down into smaller trails. The book explains the roads and interesting points, local flora and fauna with associated background such as on the original communities and the rubber plantation.
It outlines the history of the island from the early settlement dating back to the time of King Rama V when he traded Sisophon and Battambong in present Cambodia with the French to regain control of Trat province.
FACTS AND TIPS
• Location: 38 km from the mainland
• Access: Four speed boats (50 mins) per day between Krommaluang Chumporn pier in Laem Ngob district and Ta Nid Bay on the island during low season and during high season two will travel to and from Suan Yai Beach pier. Fare: Bt450
• One daily catamaran service from Laem Sok pier on the mainland to Ta Nid Bay, resuming service this high season at Bt350 for the 1.5 hour trip and transfer from Trat city
• Cat & Van, van from Bangkok plus Catamaran ride in planning stage for high season
• Accommodation: 40 resorts with rates starting at Bt350 for fan, no TV and cold shower hut
• Bike rental: Bt100 to Bt150 a day
• Year-round destination. Low season is peaceful; not too much rain; cheap hotel rates. The drawback: Some resorts and restaurants close and the beaches are dirty from waste washed ashore on the southwest monsoon currents.