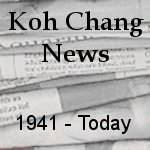 Bangkok Post, 21 August 2012
Entrance fees for the country's most popular national parks will increase 150% for Thais due to rising park management costs, the Department of National Parks, Wildlife and Plant Conservation announced yesterday.
The new rates will be imposed at 29 "Grade A" national parks and will be effective from Oct 1 onward, said Vithya Hongvienchan, director of the National Parks Office.
Under the new rate, the admission fee for Thai adults will increase from 40 baht to 100 baht, while admission fees for Thai children will jump from 20 baht to 50 baht.
Park entrance fees for foreign adults will increase from 400 baht to 500 baht and from 200 baht to 300 baht for foreign children.
Eight parks in the North, four in the Northeast, three in the East, four in the West, and 10 in the South will be affected by the new fee.
Among the affected national parks are Doi Inthanond in Chiang Mai, Khao Yai (Nakhon Ratchasima), Sai Yok (Kanchanaburi), Kaeng Krachan (Phetchaburi), Koh Chang (Trat), Phu Kradueng (Loei), and Similan (Phangnga).
The admission fees at the remaining 116 parks will stay the same, Mr Vithya added. He said insufficient budgets for park management, wastewater treatment, forest protection, and maintenance of tourism facilities had forced the department to raise admission fees.
The department's annual park management budget is about 10 million baht per park.
He said the higher admission fees would not affect visitor numbers.
Around 10 million people visit the national parks nationwide each year.
"Our national park fees are very low compared to those in foreign countries in America, Europe, or even in Cambodia," he said.
Mr Vithya estimated that the new fees would generate around 400 million-500 million baht per year in additional revenue.
+++
What isn't mentioned is that Koh Chang isn't currently a 'Grade A' National Park and so the entrance fee currently is 200 Baht which will rise to 500 Baht. (Rather than the entrance fees rising from 400 Baht to 500 Baht for Foreign adults at current Grade A parks.)
So, if this goes ahead then to visit either Klong Plu or Than Mayom waterfall on Koh Chang you will have to pay 500 Baht, 300 Baht for kids, which seems a bit too much to be honest.