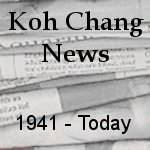 Gulf Today – February 12, 2012
DUBAI: New tourism destinations in Thailand for the Middle East residents were announced on Thursday evening, as its first Tourism Authority of Thailand (TAT) regional director introduced his successor to guests at the "Amazing Thailand Night" event in Dubai.
Meanwhile, in an interview with The Gulf Today, Pramoth Supyen who was tasked to open the TAT-Middle East Office (TAT-MEO) in the emirate in August 2007, described his four-year stint in the region as "challenging," brought about by the multiciplicity of cultures and the call to tailor-fit his country as a favourable holiday as well as a business destination for the Gulf countries nationals and expatriates, including those from Lebanon, Jordan, Syria, Iraq and Iran.
He was glad that in the past four years, the number of UAE tourists to the Southeast Asian kingdom rose from 60,000 in 2007 to 108,462 out of the 471,818 visitors from the 10 countries under TAT-MEO based on early 2011 records.
In his final speech, Supyen said: "Due to strong demand over the last four years for travel to the Middle East's favourite destination, the airlines from this region have not only increased their capacity but are now flying more than 120 flights per week to Thailand."
New TAT-MEO director Wisoot Buachoom termed at least five areas in Thailand as "alternative destinations."
Three of these are on the eastern seaboard of the country, namely the Samui Island reported to be rich in natural resources, white sandy beaches, coral reefs and coconut trees; the mountainous Koh Chang Island or Elephant Island noted for its several waterfalls, coral reefs and rainforests; and the Khao Yui, the oldest national park of 2,168 square kilometres of evergreen forests and grasslands.
The other two are Hua Hin, a popular beach resort on the Malaysian border and Chiang Rai near Myanmar. Buachoom targeted a "five per cent increase in the number of visitors from the region to visit Thailand in 2012 compared to 2011 figures."
For his part, Thailand Deputy Consul General for Dubai and the Northern Emirates Rooge Thammongkol traced the history of the country's tourism campaign "Amazing Thailand." He said this was coined in 2003 when the country hosted the Asia-Pacific Economic Cooperation Summit.
"It has been almost nine years since Thailand has been through these amazing years, during which we had to endure political development and its consequences such as anti-government demonstrations, street protests, and last year, the floods," Thammongkol said.