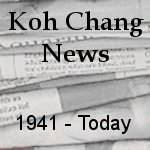 Bangkok Post – 17 September 2012
Heavy rains combined with mountain water run-off on Sunday triggered flash floods at four popular tourist destinations on Koh Chang off Trat province, including Hat Sai Khao (White Sands Beach), reports said.
The rainfall that drenched the tourist island from the early morning hours left areas in Hat Sai Khao, Ban Kai Bae, Ban Khlong Phrao and Ban Khlong Phlu under 30 to 120cm of water.
About 500 metres of the main road along Hai Sai Khao beach was under 30-50 cm of floodwater, causing difficulty in commuting.
Authorities said they and volunteer workers cleared debris off flooded roads and ensured that the water drainage system was not blocked.
The Ban Kai Bae area was worst hit with water rising to 120 cm on Ramayana Avenue after an overflow from a local canal. The community's main road, many houses and resorts were flooded by 80-100 cm of water, according to reports.
Wanroong Kanornkul, a kamnan at Koh Chang, said backhoes and other heavy machinery had been sent to affected areas to dredge canals to accelerate the water flow into the sea.
He said the flood problem on Koh Chang island was temporary and would last only a few hours and that there was no danger. The situation was expected to return to normal by the evening. However, six waterfalls needed to be closed to tourists due to strong currents.
( Not as bad as it sounds.  This happens every year, usually at the end of the rainy season, and the water subsides within 24 hours.  120cm deep floodwater seems a bit of an over-estimate.  Nearer 50cm or so is the maximum it gets to on main roads.  And then only in certain, relatively short, stretches of road, which flood every year .)