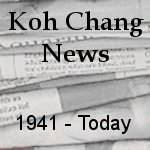 TAT Press Release 23 August
Already a very green place, Koh Chang (or Elephant Island) is about to get even greener. Though the island virtually glows green already, with over 70% rainforest cover, there is no time like the present to safeguard the beauty and ecology of this special place for future generations.
Well aware of how quickly unrestrained development can change a destination, the Tourism Authority of Thailand (TAT) has earmarked Koh Chang as its primary pilot project to build a truly, certifiably green tourist haven. Accordingly, the growing niche of savvy, responsible ecotourists can be confident that their visits will have minimal environmental impact with a truly tiny carbon footprint.
The TAT is also supporting a substantial climate protection program, begun on Koh Chang in 2009, undertaken by a coalition consisting of the German International Cooperation (GIZ), Thailand's Designated Areas for Sustainable Tourism Administration (DASTA), Thai Trat Tourism Association, the Municipality of Chang Island, Maak Island Sub-district Administration Organisation and Trat Province.
The goal of Thailand's Strategic Plan on Climate Change is to preserve and maintain the island's natural resources, while at the same time promoting sustainable tourism focusing on Koh Chang's considerable green assets.
These goals are seen by tourism authorities as a win-win situation: a destination's ecology and green assets are actively maintained and safeguarded, which in turn attracts green tourism to the destination. In the end, all parties work hand in hand to sustain a location's natural beauty and indigenous ecosystems.
Towards this end, the goal of this program is to reduce the carbon footprint island-wide by involving all players: the hotels, resorts, restaurants, villages, and local communities. The program subsequently awards Green Leaf certification to the various tourism concerns based on the level and progressive reduction of their carbon footprint.
An example of a green program being implemented on Koh Chang is a waste management system based on a model that was designed for Phitsanulok, a medium-sized Thai town located between Bangkok and Chiang Mai. The program has now been adapted by a number of communities on the island and is just one step in their plan to lower the aggregate carbon footprint of this beautiful island.
The goal of what is being marketed as "Go Green on Chang" is to seize the opportunity of saving Koh Chang at a relatively early stage of its development, before the possibility of making these changes becomes much more difficult.
Koh Chang is poised to be the flagship destination of Green Tourism; its success in blazing the way will surely inspire other islands, towns, and cities to follow their profitable trail and become greener in all senses of the word.
+++
True, some resorts do their bit and recycle, cut down on waste etc plus there are initiatives in place but these are always very small scale projects more for vanity vanity than anything really sustainable and truly a long term solution. There are also reports based on surveys that collected data on energy use for accommodation, transport, food preparation etc and apparently these can be used to highlight means of reducing energy usage.
One thing that seems to be lacking is any public record of the effectiveness of the measures that have been implemented.

As yet, nothing is being marketed with the slogan "Go Green on Chang"