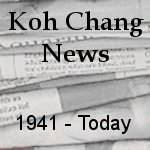 The Nation – 13 September 2012
Authorities at Trat's Koh Chang National Park announced that a bungalow and an 80-metre-long hanging bridge near Sea View Resorts and Spa would be torn down because they are located on state owned land.
The announcement also urged the individual who built the structures to present the authorities with a land title deed within 15 days or the park will demolish them. The manager, meanwhile, said he had only just joined the hotel and had no idea who had built the bungalow or the bridge.
Don't you just hate that when people sneak into your resort and build an huge steel suspension bridge across a gully without asking anyone's permission. I blame bored Cambodian labourers with a burning desire to show off their skills and funding from a mysterious third party who will never be tracked down.   More seriously, the manager could of course just ask the owner – the guy who recently employed him.  He might know.
There were  a couple of longer stories in Thai language newspapers about this.  It concerns dodgy land title deeds.  Not the first time the owner of the resort has been caught up in something like this.  There was a similar situation a few years ago regarding his prawn  farms in Salakkok.  As with that case, I have a feeling that the correct papers will appear just in the nick of time and nothing will be demolished.