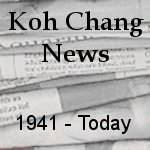 From Bangkok Post 18 December 2012
TRAT – A British tourist hospitalised after he went on a drinking binge following a split with his girlfriend was found dead in a hotel room in Muang district on Tuesday.
Carsten James Denbigh, 47, was found kneeling on the floor with his torso resting on the bed in a hotel room in tambon Wang Krajae this afternoon.
A pool of vomit mixed with blood was on the floor, said Pol Sub Lt Pawat Kaewkem, of Trat Tourist Police. Denbigh's body showed no injuries. According to a physician inspecting his body at the scene, he had already been dead for six to seven hours.
Pol Sub Lt Pawat said an investigation found Denbigh and his British girlfriend visited Trat's Koh Mak about a week ago. His girlfriend stayed with him on the island for two nights and then returned to the United Kingdom after they had a serious argument.
According to hotel staff, Denbigh consumed a lot of alcohol over several days following the break-up with his girlfriend. He fell ill,  vomiting blood. He was sent for treatment at Trat Hospital for two days and was discharged on Monday.  Pol Sub Lt Pawat said police from Muang Trat police station took Denbigh to stay at a city hotel because he had no money to pay for transportation. Authorities could smell alcohol in his room when they arrived, he added, but did not find any alcoholic beverages.
( So proof, if it were needed, that drinking yourself to death is preferable to staying more than a night or two in Trat.)