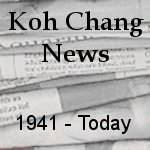 From The Nation, 28 March 2012
( A very thinly disguised advertorial for the luxury Soneva Kiri Resort.)
The fourth largest of the Kingdom's islands and located right at the end of Thailand's eastern marine territory, Koh Kood has remained relatively unscathed from developers' bulldozers thanks to its distance from the mainland and a lack of convenient means of transportation
Having witnessed how the tourism industry has treated Phuket, Samui, Koh Chang and other islands in Thailand, I was reluctant to write about Koh Kood for fear of what the publicity might means for this pristine paradise.
But Koh Kood is too pretty not too praise. Looking at Had Klong Chao's long stretch of white sand and azure sea, I had a flashback to Phuket more than 20 years ago. A peaceful clean beach dotted with just a handful of swimmers and without unsightly parasols and beach recliners is such a rare sight, I felt like I was dreaming.
Koh Kood has been part of Thailand's border dispute with neighbouring Cambodia for centuries, Legend has it that the island, once totally unpopulated, was found accidentally by young Vietnamese prince who took refuge in Thailand during the reign of King Rama I. King Rama V, who frequented islands in Trat province, stopped by Koh Kood on at least two occasions to enjoy its unbeatable beauty. Back then, the easternmost part of Trat, once a thriving commercial seaport, was named Panjakirikhet. Today, it is called Koh Kong and is part of Cambodia.
Its remoteness is the reason why Koh Kood has so far escaped an invasion by busloads of tourists and investors. The island is almost a two-hour ride by boat from Trat, itself more than 350 kilometres from Bangkok. Ferry and speedboat services operate only twice a day, one in the morning and the other in the afternoon. That and the fact that most people in Thailand do not take long vacations inside the country, has kept it safe.
The best way to explore Koh Kood is to rent a chauffeured pickup truck or a motorcycle. Thanks to the narrow concrete road running along the west side of the island, tourists can access many the beautiful beaches lining the coastal side. The east side of the island, however, is mostly uncharted steep slopes and cliffs: if you want to explore, you'll need to hire a boat
Klong Mad community in the north is the island's centre and the oldest village. This is where most local people live, work, go to school or consult a doctor. There are some local restaurants though many people seem to eat at the no-name noodle place where the owner plants her own bean sprouts. Next to her stall is a nondescript som tam place offering the papaya salad with a freshwater black-and-white crab called Manorah that's abundant in the nearby mangrove swamps.
The vast and unspoiled Klong Chao beach is a perfect place to chill out and swim during the day. For a good view from above, climb up to the hilltop Dick and Wan café at the southern end of the beach and enjoy their aromatic and strong Vietnamese-style filtered coffees, freshly baked banana cake and home-made yoghurt.
But Koh Kood has more than beautiful beaches. Its lush tropical forests boast waterfalls and abundant mangroves and kayaking along the peaceful Klong Yai Kee river or the wider Klong Yai river can be a peaceful and exhilarating experience. Many local families live and run their own restaurants by the rivers so visitors can indulge in a home-cooked meal and delightful company.
One dining experience not to miss is Khun Benz restaurant, which is a part of Soneva Kiri on the north of the island. Tucked away at the back of Klong Yai Kee river, Khun Benz showcases Thai cooking at its best. Benz, who hails from Phang Nga, offers no menu but creates a daily multi-course dinner based on what's available.
If you have a little cash to spare, stay for a few nights at Soneva Kiri Koh Kood. Completed in 2009, the third Soneva-branded resort introduced the concept of "intelligent luxury" to Koh Kood, Soneva Kiri defines that luxury as nature itself, offering spacious villas tucked neatly amidst the tropical forest.
If you cherish nature, Koh Kood is a real paradise on earth. What could possibly be better than lazing around the casuarinas trees with fine powdery white sand under your feet and nothing on the horizon but the sea?
Just pray the developers don't find a way of building here too.