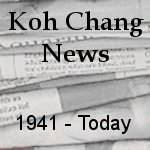 TRAT, 8 June 2011 (NNT) –
The Human Resources Department of Center Point Ferry pier on Ko Chang or Chang Island has revealed that the number of tourists visiting Thailand's popular island is declining although they still continue to travel to this place.
According to the Department, most tourists are visiting Ko Chang with tour agents. The majority of them are from Russia. It is believed that the monsoon at this time of the year has kept the visitors away.
The ferry service has prepared extra life vests for tourists while there is also an emergency team on the side just in case of the life threatening incidents. Patients will be transported to Ko Chang Hospital and Laem Ngob Hospital for further medical treatments.
( No idea why the ferry company would need extra life vests when they have fewer passengers. In reality the weather hasn't been too bad for the past month.   Rain, but plenty of sunshine too. Bear in mind not many people use Centrepoint at the best of times as the other ferry company offers a far faster crossing time and more frequent sailings.)