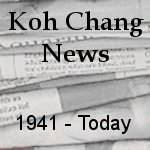 (TAT News 5 March )
Climate protection is becoming more and more important in Thai tourism development. A Thai-German partnership programme is supporting Thailand's island group of Koh Chang to become a climate friendly tourism destination. It will be presented at the ITB, at the Thailand Pavilion of the Tourism Authority of Thailand (TAT) Stand, no. 221, Hall no.26B.
Koh Chang is the third largest island of Thailand, located on the Thai east coast, very close to the Cambodia border and 310 km away from Bangkok in the Gulf of Thailand. The name means Elephant Island. The islands of Chang are known as the "rainforest by the sea" for their beautiful beaches, thriving coral reefs, waterfalls, rainforest and environmentally-friendly touristic activities. The archipelago covers three main islands namely Koh Chang, Koh Kood and Koh Maak, the three main islands cover 209 sq.km,105 sq. km. and 16 sq.km respectively and other 49 small islands and islets within an area of 650 sq km. The archipelago of Koh Chang with the area of 2,480 sq.km. is about the size class of the East Frisian Islands and their surrounding marine and coastal area of northern Germany.
Mr Franz Ellermann, Programme Director of Thai-German Climate Protection Programme said that "We want to make climate friendly tourism a selling advantage. Due to an increasing demand of green tourism destinations in the German market, ITB Berlin is a good opportunity for Mu Koh Chang to introduce itself as a green tourism destination on the world tourist map and promote itself and eco package tours in the global market. The islands of Chang have implemented several measures to become a more climate friendly destination such as on energy and resource efficiency, community-based solid waste management, or organic production. Very important are also carbon calculation and management tools, special trainings e.g. for tour operators, as well as green labeling and certification issues in order to ensure the standard."
On Wednesday, 9 March at 15:30 – 16:30 hrs., a "Roof Lounge Talk on low carbon and green tourism in Thailand, a selling advantage" will be organized at the Thailand Pavilion where the Tourism Authority of Thailand (TAT), Thailand's Designated Areas for Sustainable Tourism Administration (DASTA) as well as tour operators will have an informal discussion on Thailand's challenge and efforts to become competitive in the green and climate-friendly tourism market.
On Saturday, 12 March at 12:00 – 13:00 hrs., "Saturday Noon Session in the Culture Lounge" will be held in Hall 10.2 (Culture Convention Lounge) with the topic: "The Gulf of Thailand: Climate friendly! The islands of Koh Chang: Destination Development under Climate Change. Thai-German Cooperation in the framework of the German International Climate Initiative." Public and media are invited to join.
About Climate Protection in Tourism project
Climate Protection in Tourism project, in partnership with Deutsche Gesellschaft für Internationale Zusammenarbeit (GIZ) GmbH and Thailand's Designated Areas for Sustainable Tourism Administration (DASTA) is funded by the German Federal Ministry of Environment, Nature Conservation and Nuclear Safety (BMU). Its objective is to integrate climate change into the tourism planning and management, in order to promote lighthouses for climate-friendly tourism in the target area. Project activities include Carbon Footprint to Monitor Climate Friendliness, Community-Based Solid Waste Management, Training on Climate Change in Tourism Sector, Energy & Resource Efficiency and Organic Production, Standard, Regional Marketing and Policy Advice