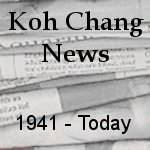 Art for Ocean: The Legend of Thai Elephants
( Press Release )
Besides the human overuse of Natural resources, Global warming and Coral bleaching have critically affected all corals and sea creatures in Thailand and all over the world than before.
It is becoming extremely important to create more environmental awareness to the world by reducing the burden for coral reefs and the ocean through creative and fun activities for locals and visitors.
Inspired by the legend of Thai Elephants, beautiful creature and lifetime friend for human being, the different pieces of artistic life-sized elephant sculpture have been created by the famed Thai Artist, Angkarn Kalayanapongsa and Art for Ocean group, in accordance to the legend of Thai elephant to share the inspiration to the deep blue explorer, the world traveler and to educate the new generation.
Accordingly to the legend, these elephants believed to be created by God Brahma, Shiva, and Vishnu to represent the different characters and meanings. i.e. four tusks elephant created by God Shiva.
The 9 art pieces will be exhibited in the emptiness sandy bottom of Trat sea at 8-10 meter depth as the tourist attraction to communicate the glorious story of elephants as well as being the immediate nursery and shelter for juvenile sea creatures, equally importance, the future home for corals and to reduce the burden and tourist congestion of natural coral reefs.
The underwater exhibition will be permanently made at the empty sandy bottom (no corals before) of Koh Mak, near by Koh Chang at Trat province from December 2011 onwards.
In accordance with these installation arts, we will also arrange the environmental art workshop (painting and sculpturing) for presses and medias, youth, and visitors together with environmental exhibition in Trat, Art galleries in Bangkok, and permanent exhibition at Koh Mak underwater.
During the prearrangement of this project from now to October, we would like to share this story with English speaking audiences. In November, we would like to invite you and your columnists to join art workshop in Bangkok and Trat.
Thirach Rungruangknokkul T: 081 582 1441