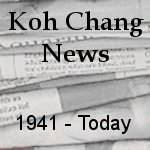 'The Nation' newspaper 2 August
Trat, Thailand – Last year nine special guests checked in to the Koh Chang Kacha Resort and Spa, one of a plethora of upmarket establishments on Thailand's Elephant Island.
The permanent guests, nine wild pigs, are part of a tentative push to transform Koh Chang (Elephant Island), 240 kilometres south-east of Bangkok, and its 51 island neighbours into a low-carbon destination.
The porkers are doing their best. 'The hotel produces about 150 kilograms of organic waste a day, and each pig eats about 10 to 15 kilograms each day, so have really reduced our waste output,' said Nopparat Chomchoei, Kacha Resort's director of human resources. The pig's waste is in turn transformed into energy in a bio-gas tank the resort purchased.
Kacha is one of 20 on Koh Chang that have been awarded a certificate from Green Leaf, a Thailand-based foundation that is setting national standards for low-carbon hotels and restaurants. The more green leaves you are awarded – the maximum is five – the less carbon you are emitting.
The Koh Chang island chain, part of Trat province on Thailand's eastern coast, is one of the country's newer tourist destinations. Situated near the once dangerous Thai-Cambodian border, the islands didn't become a magnet for tourists until the mid-1990s, and are therefore less over-developed than Thailand's other mass tourism destinations such as Pattaya beach resort and the islands of Phuket and Samui.
But even this remote chain has seen its fair share of development in the past decade. Koh Chang, Thailand's third biggest island, now offers hundreds of hotels with an estimated 5,000 hotel rooms, 'legal and illegal,' said Trat Tourism Association President Charuwan Chintakanont. The islands attract about one million tourists a year, 70 per cent of them Thais.
Besides Koh Chang, the chain's most popular destinations include Koh Kood (Thailand's fourth largest island) which now boasts at least 42 hotels and Koh Mak, owned by five Thai families, which now has at least 30 hotels and resorts.   The idea of transforming the Chang archipelago into a low-carbon destination for climate-change-conscious tourists was hatched at Koh Mak.
Koh Mak was considered the ideal island for low-carbon tourism,' said Poom Pinthep, manager of the German International Cooperation Agency's (GIZ) climate protection in tourism project. 'Koh Mak is flat with a small population, so it seemed a good spot for innovations,' Poom said.
But instead of concentrating just on Koh Mak, GIZ joined hands with the government's Designated Areas For Sustainable Tourism Administration (DASTA), and for the past three years has attempted to get the entire Chang archipelago on the low-carbon track. The project is one of six being carried out under the German Climate Initiative in Thailand, supported by the German government.
Like the wild pigs at Kacha Resort, evidence of the islands' efforts to seriously reduce carbon emissions are sometimes hard to find. One positive development on the islands has been a ban on jet scooters and banana boats, twin plagues of most Thai beach resorts.
'At Koh Chang, Koh Mak and Koh Kood we have an agreement not to allow jet skies and banana boats,' Tourism Authority of Thailand (TAT) Trat director Woranit Kayaras said. 'It's not a law, but a social contract.'
Other efforts include asking motorists to turn off their car engines on the ferry ride from the mainland to Koh Chang, a healthy development for both passengers and global warming.
Tourists determined to reduce their carbon footprints can take the ferry from Central Point, Trat, which has switched from diesel to Compressed Natural Gas (CNG). The residents on Koh Kood and Koh Mak islands have refused to allow car ferries to their islands, which is a good thing considering the state of the roads there.
According to a study conducted by Burapha University for the GIZ/DASTA project, the tourism on the Chang island chain currently accounts for 48,000 CO2 equivalents per annum, with each tourist emitting about 20 CO2 eq a day.   (* It wouldn't be a 'The Nation' report without some obviously incorrect statistics.)
Hotels accounted for 31 per cent of the carbon emissions, tourism-related transport another 25 per cent and restaurants 24 per cent. In other words, the islands are going to need a lot more wild pigs on board to generate the bio-gas needed to reduce the hotel emissions.
'I think the impact of the project will be clear after five years,' predicted Trat tourism association president Charuwan.