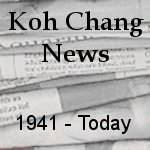 Eco co-operation on Koh Chang between DASTA, GIZ and the local business community. ( DASTA News, 2 April 2011)
A new project was recently launched to reduce the amount of organic waste that is collected by using it to make biogas. The amount of garbage produced on the island has long been a problem and all sectors of society have been searching for solutions for some time. However, finding the perfect solution is not an easy process. Public opinion was against transporting more garbage from the island to the Trat mainland for use as landfill and the amount of waste that is used as landfill has been limited to 10 tons per day in low season and 20 tons in high season.
In 2010, a total of 6,447 tons of solid waste was collected by the sanitation department, according to Miss Nanthawan Noppakao of the Environmental Public Health Division. Of this recyclable material consisted of under 5% of the total and organic matter construed 25%.   The remainder was sent for landfill.
As organic waste makes up a large percentage of the total, DASTA decided to make reducing this amount its goal. Organic waste can be used to produce biogas, which in turn can save small businesses and resorts a great deal of money. However, until now this was an expensive process, requiring specialist equipment.
On January 17-18 2011, DASTA and the GIZ held a seminar highlighting the use and benefits of biogas technology. A team of academics and biogas specialists demonstrated simple ways for small businesses to use organic waste to safely produce biogas without the need for expensive equipment.
( GIZ is an organisation funded by the German government which provides development and technical assistance to programs operating in developing nations. They have been active in Thailand since 1975. )
At the meetings, held at Klong Prao temple, island officials plus representatives from local communities and businesses listened to lectures and viewed demonstrations on constructing biogas fermentors.
Demonstration units were installed at Ban Chang Thai elephant camp and also Grand Orchid Hotel & Spa and will act as a learning resource for others who are interested in seeing how the process works not merely in theory but in practice.
Although this is still a small scale application, the owner of Grand Orchid Resort & Spa reported that staff at the resort were already using biogas, made from the resorts organic waste to prepare meals. This simple, low level technology is not designed produce huge amounts of biogas, but can provide enough for normal cooking use. Thus allowing homes and restaurants to end their reliance on buying gas and simultaneously slashing the amount of organic waste sent to landfill.
Those using biogas were pleased to see the co-operation of DASTA, GIZ and local communities helping bring people together and work as one to help the island as a whole.
15 additional biogas sets for further trials in resorts and restaurants on the island are being produced and will all be operational by early May.
The problem of waste requires cooperation from all sectors such as local government, young people and entrepreneurs. To help reduce waste and keep Koh Chang green and evolve into an eco-tourism destination.
Businesses involved in the project also include Panviman Resort, Phu Talay Restaurant, Blue Lagoon Bungalows, White Sand Beach Resort and Penny's Resort.: