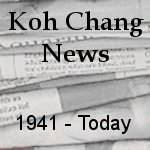 13 September 2011 (Translation from Thai news article)
The Koh Chang police were notified when the headless body of an unidentified woman washed up by rocks near Top Resort, White Sand beach on Monday, September 12. The police found the naked body in an advanced state of decomposition lying face down on the beach. From the state of the body it is estimated that it had been in the water for 5-6 days.
Judging by the appearance, the police believe the deceased is a foreign woman. No traces of injuries, other than a missing head, were found on the body. The police think she may have died elsewhere and the body washed up on the shore where it was spotted by hotel staff.     The body has been sent to the coroner in order to determine cause of death and the police continue to investigate to determine the woman's identity.
( No more details as the story only appears briefly in Thai papers and the English language papers in Thailand will probably avoid it.)