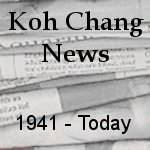 September 15 ( Brief translation from Thai News article)
Man's body found in the sea at Klong Son, Koh Chang
  On 15 September fishermen at Siam Royal View, Klong Son, Koh Chang discovered a body floating face down in the sea. Police and volunteer rescue workers attended the scene and the body was removed from the water at the pier on the Siam Royal View development.
A rope was used to bring the body ashore and it was quickly ascertained that this was most likely a murder, as the deceased had been shot several times in the neck and left eye. The right eye was also missing. Judging by the condition of the corpse, police estimate the man had died within the previous 10 hours.  
The body has now been sent to Koh Chang Hospital for an autopsy. Police are appealing to village leaders for help in identifying the victim as it is not known if he is local or a fisherman from one of the many boats based in the area.