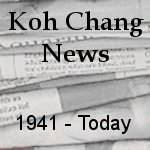 16 March 2009
The Public Health Ministry will soon develop the Khlong Prao Public Health Center on Koh Chang into a community hospital as a measure to entice more tourism to the island.
Deputy Permanent Secretary for Public Health Dr. Siriwat Thiptharadol traveled today (March 13) to Trat province to meet with the ministry officials stationed in the province. Dr. Siriwat listened to the officials' reports on problems and obstacles in their work before passing out the ministry policies.
The Deputy Permanent Secretary stated that presently Trat's Koh Chang is a famous tourist destination for both domestic and foreign travelers and has warranted attention from his ministry to develop the island's Khlong Prao Public Health Center into a community hospital.
The hospital will be used to provide adequate medical care to visitors and hopefully instill a sense of confidence for travelers and promote tourism on Koh Chang. Meanwhile, the island's Dan Mai Hospital has also been slated for additions to accommodate a larger number of patients with plans to build another community hospital on the mainland.
'As a measure to entice tourism?' Can't see a government run hospital being an immediate attraction to visitors.