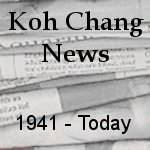 16 April 2009
The Water Transportation Office in Trat is confident that no tourist will be left stranded on Ko Chang, despite heavy traffic on the island as tourists were waiting to take the ferry back to the mainland.
Today (April 15) tourists visiting Ko Chang during Songkran Festival had gradually returned to the mainland in Laem Ngob District, therefore more than 100 police officers had been reinforced to facilitate travelers taking ferries in order to prevent traffic jam.
The Water Transportation Office Chief in Trat Mr.Surachai Buraphanonthachai said that today there were a lot of tourists who traveled back from Ko Chang, therefore the office had asked for cooperation from Leam Ngob and Ko Chang Districts to assign volunteers to help police officers in order to keep smooth traffic flow, but the road on Ko Chang was quite narrow, therefore the traffic faced some troubles.
The office had also asked for more than 60 more ferries in order to take the tourists back to mainland, and was confident there would be no tourist left stranded on the island. The ferry would be not overloaded, even during rush hours. Some tourists also prolonged their stays on the island after the government had extended Songkran holidays by two days.
In reality Thai New year was far quieter than usual, probably due to the unrest in Bangkok at the time.   Instead the long weekend holidays in early May were when the island was busiest with Thai visitors.   At one point there was a 7km tailback of cars waiting to leave the island.