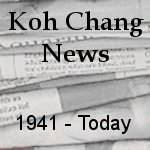 27 July, 2009
A municipal ordinance is being issued to establish order on popular Koh Chang in Trat. Order of the day is to lose the garbage.
Saran Jirangsri, mayor of the Koh Chang tambon municipality, said the resort island was facing many problems – from leftover building materials littering the roads to irresponsible parking and poor hygiene at weekend markets.
Tourists, business operators and local residents often park their cars in no-parking areas and along public roads, causing traffic congestion.
The municipality had for years sought the cooperation of tourists and businesses, urging them to respect the traffic laws, but the efforts proved futile.
The mushrooming of weekend markets on the island is partly to blame for the overflowing garbage and the worsening wastewater situation.
Municipal officials have not been able to fully regulate the markets run by the private sector.
To tackle the problems before they do more harm to the island's tourism, the municipality will pass an ordinance to strictly regulate the parking of vehicles, construction activities and to ensure all weekend markets meet cleanliness standards.
Mr Saran said the ordinance was expected to boost the island's tourism appeal and improve the rate of repeat visits.
He admitted that garbage disposal was a major obstacle to the island's development plans.
The last garbage disposal firm hired by the municipality for 900,000 baht a month was not ready to risk an investment to increase its capacity due to the short-term contract.
A new contractor is being paid 600,000 baht a month to collect and dispose of garbage on the island.
But it, too, is reluctant to invest in more modern and costly disposal equipment, so the mayor said he would hold talks with municipal executives to extend the firm's contract.
A campaign would be launched to urge business operators on Koh Chang to sort their rubbish, and local people would be encouraged to set up environmental conservation groups in their communities.