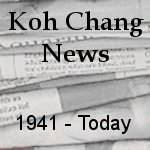 02 June 2009
Is It a Reality or Dream?
There are several good aspects that people in Koh Mak will expect for in the near future. For example, average power bill of community and households will be reduced due to Koh Mak can be able to provide energy alternation such as wind energy and biomass energy;
?
the main travel mode between places on the island will be serviced by electric car (non motorize vehicle); and reputation of so called green island since solid waste and waste water will be treated in the good management manner. Due to the oil price jumped up continually, this causes an adverse effect on Thai economy. Cost plus inflation is now becoming the hot issue of Thai economy. Most of Thai people are under the stress of inflation influence. Their living standard is getting worse. This situation will not be easy end since demand for fossil fuel still high while oil reservation is depleting and its price is still kept on soaring.?
Energy efficiency policy is emerging as the major idea of recent time. Besides this some people themselves are also initiated some devices attempting to reduce their energy consumption. But these endevours could partially help reduce small amount of energy uses. Targeting for overall reduction of energy consumption of the certain area(s) is still being the how to question that concerned organizations have to take into their serious consideration. Accordingly, they have not merely to search for sources of alternative energy but also to develop those commercialized renewable energies substituting for or complementary to the conventional utilization of fuel oil. Hydro power, solar energy, bio gas, biomass and wind energy are becoming the sources of alternative energy in the future.
Designated Area for Sustainable Tourism Administration or DASTA, which is responsible for administering the development of Koh Chang Cluster Designated Area to meet the vision of excellence ecological attractions for world- wide visitors, has recently put more efforts to initiate technologies for renewable clean energy. In so doing, DASTA has coordinated and integrated all concerned governmental agencies, related parties, communities and other stakeholders in the areas to work together for energy and ecoefficiency.
On May 21, 2009, DASTA collaborated with Department of Alternative Energy Development and Efficiency, Ministry of Energy, to set up projects initiated for alternative energy development such as wind power, hydro power, biomass, and bio gas (conversed from organic trashes).
These alternative energy sources will be researched and developed for Koh Maak and Koh Kut which DASTA has positioned to
be the Green Island or East-End
Paradise and High End Resort Island, respectively. For the initial stage, DASTA in collaboration with Department of Alternative Energy Development and Efficiency will start studying and researching to find out the possibility and feasibility of the project(s) to suite the areas.
These should help build up high quality standard of the areas. Maldives is the most classic example for this practice. With in dept interviewing with people of Koh Maak, there still have other types of problem and community needs that they are dreaming of the future of their living place. According to socio-economic survey of Koh Mak conducted in March this year, it found that there are several problems to be rectified and that people needs to be provided with urgent responses from concerned authorities.
These comprise not only high standard infrastructure facilities but also implementable environmental protection projects/activities. To conserve natural resources and environment and protect aquatic ecosystem of the area, Koh Maak municipality has requested for help from DASTA. Solid waste management, waste water treatment, energy efficiency as well as scenic road and rest areas development projects are rough example projects that DASTA will support for Koh Mak development.
Mr. Worasit Rojanapanich, Director General of DASTA, cited that based on findings from field survey, DASTA foresaw the importance of redeeming problems that people are facing with and the necessity of provision sufficed concern services to meet the needs for future prosperous of Koh Mak.
Currently DASTA has collaborated with municipality of Koh Mak to set up policy and development plan for GREEN ISLAND development. Within the development administration frame work, DASTA emphasizes on participation of people and other stakeholders on the island. The first step will be to identify and define the problems and needs recommended or suggested by people and stakeholders on the area.
In parallel with this, public relations will also be conducted to provide knowledge and some process involvement guidance and overall benefit of Green Island development. Judging from field survey and excursion into some detailed aspects of Koh Mak, we find that natural marine resources and environment on and around Koh Mak are still in good condition.
Accordingly, DASTA's vision:   'Develop Designated Areas Conserve Natural Environment to Status of Excellence as Ideal
Ecological Attractions for Worldwide Visitors', would be achieved and realized for Green Island development of Koh Mak. For this,?document plan of eco-tourism with focus on natural resources, environment, biodiversity and climate change protection concepts?will be conducted.
DASTA will undertake the development administered role for Koh Mak master plan conduction and plan implementation coordination. 'Green Island Development Plan' of Koh Mak would be as the great dream or reality is subject to the participatory involvement conditions of people, stakeholders and other parties. DASTA alone is unable to initiate and build up such the dream to be become true.