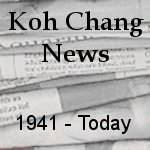 18 Sept, 2009
Chairman of the Koh Chang Hotels and Resorts Association Sophon Junderm pointed out that the tourism business on Koh Chang saw obvious signs of recovery as 80% of rooms on the island have been booked during October to December.
He indicated that 90% to 100% of accommodations were expected to be booked in November. He said the Tourism Authority of Thailand, Trat office, had launched measures to boost tourism in the province which really benefited the tourism entrepreneurs. He explained that during the middle of the year which was the low tourism season, small-sized hotels and resorts had to reduce their operation cost by several means for their survival while 4 to 5 stared hotels were slightly affected by the economic crisis.
Mr. Sophon added that the Tourism Business Association Board will launch several activities to stimulate tourism and attract the tourists to continually visit the province.
There's optimism and then there's plucking random figures out of thin air.   I doubt very much that Koh Chang will be seeing record occupancy rates in October & November.