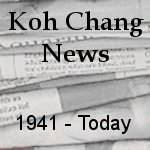 13 October, 2009
The Disaster Prevention and Mitigation Official in Trat province revealed statistics showing that in the past 5 years, Rip Currents caused more than 40 deaths in Ko Chang coastal area. Thus under the 1.15 million baht funding supported by the Designated Areas for Sustainable Tourism Administration (DASTA), the local Disaster Prevention and Mitigation Office has implemented Precaution and Rescue Potential Development Project to save victims from Rips in the area.
The Precaution and Rescue Potential Development Project offered a beach guard training course for 80 volunteers and placing 5 coastal watchtowers on 3 main beaches together with warning signs and flags and bilingual information pamphlets for tourists.
In addition to the rescue team and the extra medical equipment provided, the project also aimed to urge collaboration and participation from the local businesses and related agencies to ensure safety for visitors. All actions have already been done to build the confidence for tourists particularly during this rainy season.