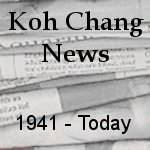 Nov 11, 2009
TRAT — Leaders on Koh Chang will decide today whether to close the tourist island to visitors to pressure the government to solve a long-running land dispute with the navy.
Residents, led by local leaders and politicians, are threatening to close off the island to visitors on Friday unless their demands are met.
They want the revocation of the navy's ownership documents for land on the island and the cancellation of Koh Chang's listing as a national park.
The residents claim the land controlled by the navy and the national park infringe on their land.     The group submitted a written protest to the Trat governor on Monday.
Sophon Chanderm, a provincial councillor representing Koh Chang district, said leading protesters, including village heads, would meet today to decide whether they should go ahead with their plan to close the island on Friday.
Culture Minister Teera Slukpetch, a Trat MP, rushed to hold talks with Wanrung Khanornkul, a protest leader, on Monday night.   Mr Teera told Mr Wanrung the government was not ignoring their problems and was working to verify their land claims.
Maiyarat Pheerayakoses, president of the Association of Domestic Travel, said it would be the islanders. not travel agents or tour companies, who were hurt most if the dispute was allowed to drag on. Travel agents could always advise tourists to visit somewhere else.