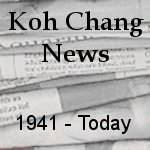 03 March 2009
Koh Chang District Chief Sakprasert Charoenprasit said that there were two dead dolphins in three days, while earlier a few dolphins had already died.
The District had acknowledged the problem and had reported that the cause of dolphin death was from both fishery practices and poison food, therefore the district would accelerate the solving of the problem by cooperating with the Municipality of Ko Chang, Ko Chang Archipelago National Park, including seashore fishery units. However people would play the most important role and would be persuaded to be volunteers.
President of Small Fishery Boat Club Danai Jantharangsi said that the death of dolphin was caused by fishing boats, which operate too close to the shore. Therefore the dolphins, which look for food in the coral reef are accidentally caught and died. Therefore the solution is to prohibit fishing boats close to the shore. Volunteers are trained to monitor the situation closely.