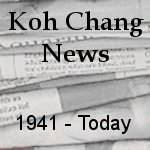 12 Nov, 2009
Residents of Koh Chang angered at losing land to the government in a dispute over decades-old satellite images have deferred a decision to close down the island after Culture Minister Teera Slukpetch stepped in.
The residents, many involved in Koh Chang's booming tourism industry, yesterday agreed to wait until the middle of next month to give the government time to respond positively to their land ownership problems.     Many complain they have lost their land to the state based on satellite photos taken in 1967.
They met local authorities at Koh Chang district office yesterday and agreed not to close down the island from today, although they were still angry at the government for delaying a review of the order to seize their land.
The residents insisted they had owned their land for generations, but it was seized after authorities had reviewed satellite photos and concluded parts of the island belonged to the state.     A source said they were not consulted before the decision was made.
Representatives of the residents told yesterday's meeting the government was insincere about addressing their problems and some who had defied the government had been arrested and charged with encroaching on their own property.
They said they did not understand what was taking the government so long to verify the land ownership.
Mr Teera, a Trat MP, telephoned the meeting and said a petition by the residents verifying the ownership had been forwarded to the PM's Office and he expected the issue to be settled by Dec 18.   He asked the residents to be patient and not close down the island as it would deter tourists and cause economic hardship for everyone on Koh Chang.
The residents said they would block tourists from arriving on the island and would not engage in any more negotiations if they did not hear from the government on Dec 18 with a positive response.
Koh Chang district chief Sakprasert Charoenprasit, hotel operators and Trat provincial councillor Sophon Jandoem who represents Koh Chang attended the meeting.
Mr Sakprasert said even the threat of closing down the island had hurt Koh Chang's tourism opportunities.   Tour operator Sanya Kerdmanee, a former president of the Koh Chang Tambon Administration Organisation, said it was not right for some local politicians, community leaders and people to risk business opportunities on the island over the land dispute.
Jaruwon Jintakanont, president of the Tourism Association of Trat, said the resident's threat had caused 30% of incoming visitors to either cancel or postpone their trips to the island.