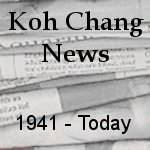 11 February 2009
TRAT: A successful Koh Chang businessman charged with illegally running a private airport on the island turned himself in to police to fight the charges on Saturday night.
Pisut Rattanawong, executive of Ferry Koh Chang Co and shareholder of Koh Chang International Co, reported to Koh Chang police in Trat about 10pm.
Mr Pisut, who also runs a four-star hotel and the island's largest shrimp farm, has been charged with running an aviation business without permission, falsifying documents, letting foreign pilots fly a plane without permission and illegally using an aviation licence.
He denied all charges and submitted documents relating to the airport's operation to police. He was released on bail after placing a land title deed as surety.
He reported to police after a warrant for his arrest was issued.
Pol Col Sakchai Thasubon, chief of Koh Chang police, said police were waiting on additional documents from the businessman before deciding whether to proceed with the case.
Earlier, Koh Chang residents and tourism operators lodged a complaint with the Interior Ministry against Mr Pisut for running an aviation business without permission.
His airport operation also caused noise pollution, affecting residents and tourists.
The complaint was forwarded to the Transport Ministry's Aviation Department, which found the airport was being run without permission.
Police called Mr Pisut in for questioning twice, but he failed to show up.
Sophon Chanderm, chairman of the Koh Chang hoteliers association, said the private airport was initially established as a club to help tourists or victims of water-based accidents.
A source said the airport was located at the entrance of the Khlong Pu waterfall in Khlong Prao village of Koh Chang district.
The shrimp farm in question is also subject of newspaper reports in 2005 – allegedly built on encroached land.   The airport is on land owned by CP Group,   one of Thailand's largest conglomerates, who also own the shrimp farm.