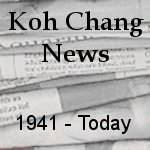 11 August, 2009
Thailand could lose millions of international tourists if the kingdom fails to come up with greater efforts to promote eco-tourism amid growing global concerns over climate change, says German Ambassador to Thailand Hanns Schumacher.
There is not enough concern about sustainable development at tourist destinations, which is crucial in curbing the industry's impact on the environment, he said.
"There are several beautiful islands in Thailand, Koh Chang for example, that lack proper management of waste as well as water supply and sanitation," said the ambassador.
"In some areas like Pattaya and Phuket, [the environment] is slipping away. In others, allowing hotel construction on the beaches has led to landslides."
In addition, irresponsible developments were gradually deteriorating the environment and the local culture, which are key attractions for tourists.
Spain is an example where a poor stance on eco-tourism saw it lose its appeal with European tourists.
"Investment in eco-friendly tourism is the only way to create sustainable income in tourism. In some cases, the ecological destruction could cost much more to repair than the investment to prevent it," he said.
Nisakorn Kositratna, the secretary-general for the Office of Natural Resources and Environmental Policy and Planning (ONEP), supported the idea saying government agencies should become more green-minded.
"For instance, in Germany there are protected areas that forbid the use of chemicals. The private sector will also be supported, not only the public sector," Ms Nisakorn said.
Mr Schumacher said environmental technologies contribute 8% to Germany's gross domestic product, where some 1.8 million people work in the "green sector".
"In Germany, we underline the crucial role of economic incentives, in particular carbon markets, for necessary large-scale investments in climate-friendly technologies," he said.
Mr Schumacher made his remarks at a workshop aimed at strengthening the Thai climate change team's negotiating capacity. The workshop is part of the three-year Thai-German Climate Initiative, implemented by the German Technical Cooperation and ONEP, that runs through 2011.
The workshop is timely as Bangkok will hold climate change talks from Sept 28 to Oct 9. More talks will be held in Bonn next month, followed by Barcelona in November, ahead of the Copenhagen conference in December to discuss a new framework for climate-change policies after the first phase of the Kyoto Protocol expires in 2012.
"Climate change is emerging for all countries. It is man-made and to deny this is truly irresponsible," he said. "It is necessary to talk to the general public and make them aware of climate change and its impacts."
Ms Nisakorn said Thailand has no commitment to cut CO2 emissions but Bangkok has continuously participated in climate change negotiations.
"ONEP is developing a master plan for climate change in Thailand, she said.