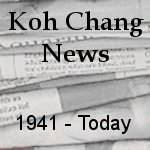 25 September 2009
Members of the Association of Thai Travel Agents (ATTA) have seen their client numbers plunge 33 per cent, with only 1.12 million inbound tourists year to date as of this past Sunday.
The sharp decline signals a continuation of troubles in the tourism industry and is prompting more calls for urgent rescue measures.
Political unrest and the global economic crisis are cited as the main reasons for the industry's slump, which forced one hotel owner on Koh Chang to commit suicide recently.
ATTA president Surapol Sritrakul said business was down by 542,000 clients so far this year, with traveller numbers from key markets like South Korea, Japan, China and Russia dropping anywhere from 22 to 55 per cent year on year.
An increase of 1-30 per cent in numbers of Indian, Iranian and Hong Kong travellers could not fill the void.
Fewer tourists have led to liquidity shortages among operators, including Anuthat Chinnawong, owner of The Chill Resort Koh Chang. He killed himself at the resort earlier this month, a few days before a bank approved his request for a soft loan to clear his debts.
Anuthat's hotel has been in financial difficulties ever since the political crisis first hit the tourism industry.
Surapol said 82 small and medium-sized hotel operators were still waiting for soft loans from financial institutions, due to missing documents. To date, 204 operators have received soft loans.
Prakit Chinamourphong, president of the Thai Hotels Association, which was informed of Anuthat's death, said hotels throughout the Kingdom continued to suffer from the ongoing economic crisis and political problems.
Many small and medium-sized operators may shut down if government assistance does not arrive in time, he said.
Prakit will discuss the issue with the Tourism and Sports Ministry next Wednesday.
"We need the government's help to ease operators' financial problems, so they can stay in business," he said.
Koh Samui Tourism Association president Seni Puwasetthawon said while the number of visitors to the island destination was also expected to fall 10 per cent this year, from 1.2 million last year, revenue would drop 20-30 per cent to Bt10 billion, due to heavy discounts on room rates.
"Many hotels on Koh Samui are offering discounts of more than 50 per cent this week at the Queen Sirikit National Convention Centre fair, to attract tourists," he said, adding that the situation should improve in the fourth quarter if political problems were resolved.