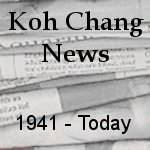 BANGKOK, 9 November 2009 (NNT) – The Tourism Authority of Thailand (TAT) arranges an online marketing training program for Ko Chang tourism entrepreneurs in Trat province.
TAT information technology department director Phanom Kaributra said that the training would help local entrepreneurs expand their businesses as there was a growing potential in the Trat tourism market, according to a TAT marketing research. More than 70 online tourism entrepreneurs in Ko Chang have shown interest in the training.
The entrepreneurs will be shown how to link their websites with the TAT website www.TourismThailand.org as well as other private tourism websites, both domestic and international. The training will also teach them to develop hotel online reservation systems.
++
Next year they will be taught how answering emails and not just ignoring them can actually   improve your income.