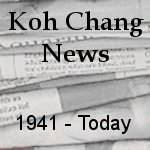 21 Nov, 2009
The International Fishing Cup Tournament Asia kicked off on Friday in Ko Chang, Trat province. 15 fishing teams from Asian countries including Thailand have signed up for the competition.
Major General Jaraspim Therarak, the manager of the Designated Area for Sustainable Tourism Administration (DASTA), yesterday presided over the opening ceremony of Ko Chang International Fishing Cup Tournament Asia at Bang Bao pier on the island. The event is jointly organized by the International Fishing Angler's Associate, Tourism Authority of Thailand, and Trat Tourism Business Association. More than 15 fishing teams from Korea, Japan, Cambodia, Indonesia, and Thailand have taken part in the competition.
Major General Jaraspim said the event would help promote local tourism and raise Thai fishing up to the international level. First batch of fish caught during the competition will be given to the Marine Department for breeding as part of the DASTA's sustainable tourism project.
The president of the World Sports Fishing Federation will also participate in the event.   The Republic of Korea will host the next world's championship fishing competition in 2010.