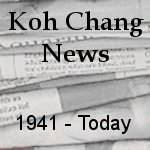 May 19, 2008
A tourist was feared dead after being swept from a beach in rough seas off Koh Chang on Sunday evening. The man, identified as Siam Wipura from Nakhon Pathom, arrived on the island on Saturday to take part in a music festival.
He accompanied a female tourist to the sea around 6pm and while swimming near Sai Kao beach, both were swept away by large waves.
Bystanders managed to rescue the woman, whose name was not given, but failed to reach Mr Siam who was swept into deeper waters.
The female tourist was taken to a nearby hotel for first aid. Rough seas and strong winds hampered the rescue operation as nightfall crept in.
Around 7pm, the rescue workers and divers had yet to discover the man.
A local marine police unit was called in to help with the search, but to no avail.
Another rainy season, another death. However, there are now warning signs on the beaches about the dangers of swimming in the rainy season.