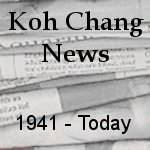 June 29, 2008
Boxer, and actor, Sirimongkol determined to win another world title
Sirimongkol Singwangcha isn't just trying to build a house for his family among the dirt and weeds in Pathum Thani – the former world champion is also labouring to reconstruct a boxing career that has veered badly off track.
While his two WBC titles (bantam and super-feather) cannot be disputed, many people still associate him with nude pictures that were published in a gay magazine.
And just when he was getting over that episode, a failed hepatitis test robbed him of the chance to fight for the WBC lightweight title in the USA.
Just when it seemed it couldn't get any worse, his career then ground to a complete halt when the WBC dropped him from their rankings for taking part in K1 kickboxing fights in South Korea.
Not surprisingly, the 31-year-old feels that he has a lot to catch up on before his career is over.
"I feel very frustrated and I hope things take a turn for the better in the future," said Sirimongkol, who is nicknamed "Oh".
"I am ready to take on anyone and I will travel anywhere in the world to get a fight against a good opponent.
Sirimongkol trains at David Treharne's gym on Koh Chang. Far from luxurious, this is the humble house Sirimongkol and his family are living in while their new residence, and gym, are built next door in Pathum Thani.
"Things haven't gone to plan for me but I try to think that I have travelled a bumpy road and that has given me the experience to push on further."
He said he was offered 200,000 baht for a routine three-day modelling shoot after losing his WBC super-featherweight title to Jesus Chavez in Texas in August 2003. The offending pictures were taken on the final day.
The married father contends they were later sold without his knowledge. When the magazine was seized two years after the photos were taken, he was fined 4,000 baht and his image took a big hit.
"The people close to me know why I posed for those photos and that is all that matters," he said.
"Obviously the lads in the gym joke about it but I don't mind, it is only banter."
The foray into K1 earned him one million baht for three fights at a time when he was banned from western boxing abroad and limited to 50,000 baht matches in Thailand against weak opposition to mark time.
Although the WBC took a stern view, Sirimongkol said he was simply trying to earn a living when all other avenues were closed.
He won two of the fights and dropped a controversial decision in the other.
Despite all the bleak moments, things may just be turning around for the Nakhon Ratchasima-born boxer.
He now appears in the media with his clothes on and recently played a tough guy in Thai martial arts movie Chocolate.
Sirimongkol says he enjoys acting but still craves success, and the money it will attract, in the boxing ring.
Last month he travelled to Australia to knock out home favourite Chad Bennett in one round and is now ranked in the top 10 at light-welter by the WBC and WBA.
He had already passed a hepatitis test at Bumrumgrad hospital prior to that assignment, so is ready for future foreign missions.
Even though many Thai boxers wilt when they travel abroad, Sirimongkol said it is something that he looks forward to.
"There is less pressure on me when I fight in another country because I have nothing to lose," said Sirimongkol.
"I love to fight good boxers rather than poor boxers because of the challenge.
"I want to prove myself but just need to be given the chance because fighting weak opposition in Thailand doesn't interest me."
Sirimongkol was trained at the start of his career by British coach Charles Atkinson, who has recently returned alongside UK manager Gus Robinson in an advisory capacity. Naris Singwangcha is part of the Thailand-based team along with trainer David Treharne.
When Sirimongkol turned to Queensbury Rules boxing in May 1994 after a foundation in Muay Thai he was fast-tracked due to his natural ability.
At the tender age of 18 he was fighting, and winning, 12 rounders.
After 12 consecutive victories he was pitched in against Mexico's Jose Luis Bueno for the interim WBC bantamweight title in Phitsanulok in August 1996.
Many thought the Thai was in too deep because Bueno had nearly beaten Wayne McCullough in Dublin in his previous outing but Sirimongkol blasted the highly-regarded visitor away in the fifth.
He won the full WBC title in his next fight with a 12 round decision over Jesus Alberto Sarabia in Nakhon Phanom. He lost the belt in his third defence to Joichiro Tatsuyoshi in Osaka, Japan, and Atkinson walked away in disgust, saying that the decision to make Sirimongkol reach 118lbs had been the main reason for the stoppage defeat.
Atkinson had steered Sot Chitalada (WBC flyweight), Samart Payakarun (WBC super-bantam), Payao Poontarat (WBC super-flyweight), Napa Kiatwanchai (WBC strawweight) and Saman Sorjaturong (WBC light-flyweight) to the top but said he could no longer work with management teams who forced their boxers to boil down to unnatural weights.
Sirimongkol then jumped three divisions to super-feather and won the WBC title from Kengo Nagashima in Japan before losing to Chavez in his second defence.
An interesting story with a Koh Chang connection, regardless of wheether you are a boxing fan or not.