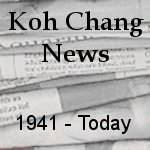 28 May 2008
Anyone wanting to get away from the Koh Chang cliches of beach and elephant treks should check out its Treetop Adventure Park. With body harnesses, carabiners, pulleys and long cables linking the tall trees, its business is immediately clear to first time visitors.
Treetop Adventure Park takes thrill seekers and nature lovers through the jungle canopy on a safe but exhilarating trip from one treetop to another.
"We give the island a twist towards the extreme," explains Nanthaphol Khaimuk, the adrenaline junkie who runs Treetop Adventure Park. "Koh Chang is famous for its beaches, so lots of weekenders come here for a blissful break.
"We take you to the treetops for a little more action and a big adrenaline rush."
Tucked away on he island's southern tip, Treetop Adventure Park's base camp is a bamboo shack overlooking the beautiful Bai Lan Beach.
The adventure takes place in a hectare of rainforest with high jungle canopy, with thrill seekers travelling through the air using high ropes, Tyrolean crossings and zip slides.
Of course, you need a short training session first.
"The training helps you understand the tools and safety system", says Nanthaphol. "Once you've passed it, we take you up to the treetops for the real action."
The jungle canopy trails are designed for two levels: soft and hardcore adventurers. Like many visitors, we begin with the easy one.
After donning body harnesses, we take turns climbing a 30 metre tall tree before braving a "flying skateboard" across the valley to the platform on another tree. It's fun, and easier than you might imagine. Then, there are the tricky rope bridges and swaying wooden bridge to conquer.
The last station on the softcore adventure is a flight through the jungle suspended beneath a cable. With pulleys and a little help from the momentum of your own weight, you glide through the air like a kungfu master from the movie "Crouching Tiger, Hidden Dragon".
The hardcore level offers higher trees to climb and longer cables from which to fly.
"The highlight is the giant Zip Line where you speed among the trees for 150 metres," says Nanthaphol.