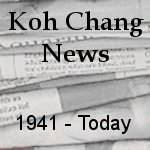 27 March 2008
I don't know what you've done in your life, but if you're anything like me, death won't be delivering you a passport to heaven. Fortunately, though, we sinners don't have to miss out on our trip to paradise. Koh Wai – all white sand, azure water and palm trees – awaits near the Cambodian border, six kilometres south of its bigger brother, Koh Chang.
If you're hankering for action, go elsewhere, but if you need cloistering away from noise and hustle, this island is your answer.
At Ekkamai terminal at 7.30am on a Saturday, it's difficult to find a logical reason for going to an island that doesn't have a pub. But a six-hour bus trip later, arriving in Trat, it's too late to go back. A songtaew putts out to the Krom Luang Chumporn Pier, from which the ferry leaves for Wai Island at 3pm daily.
There are no ATMs or 7-Elevens on the island, so stock up on necessities beforehand. It's also best to know where you're staying there so you can get dropped off at the closest pier. Failing that, there's a rough path linking each of the four bungalow operations on Wai, all on the north shore.
Two hours later I alight on a rickety wooden pier and gawk down at the zebra-striped fish below, then up at the palm trees nodding sagely on the deserted beach. So, this is what heaven looks like.
At the aptly named Koh Wai Paradise, for 250 baht (US$8) a night, I secure a simple wooden bungalow with a double bed and a mosquito net. I thank the god of budget travellers – Wai has some big, nasty mosquitoes.
A group of happy souls are playing volleyball near the open-walled restaurant, which doubles as a reception-hire centre-library. They wave at me to join but I don my bathers instead, slather on some strong repellent and head out for a dip in a small cove at the far end of the island – it's time to worship the ocean.
Night falls and Thai and international guests trickle into the restaurant, along with some "long-timers". A pony-tailed German gent in his 50s has been coming here for years – so long, he tells me, that it's become his second home.
Of the 40 huts at Koh Wai Paradise, several are rented out for months at a time.
With only the three other bungalow operations on the island, the forest covering the hills is barely touched, the night is unmarred by doof-doof music, there are no motorbikes (or roads, for that matter) and life marches at a snail's pace.
And with the prices here, why not stay forever? A delicious laab will set you back 60 baht ($2) and is large enough for two. The most expensive item is a whole, delicately flavoured fish for 300 ($10).
But, according to manager Ran, Koh Wai won't be this peaceful for long. A South Korean company has bought the most luxurious operation – Koh Wai Pakarang – signalling plans to develop the island further.
I borrow a torch to negotiate the rocky path back to my bungalow. Electricity comes from a power generator that only runs from 6 to 11pm. Kerosene lamps can be rented, but most guests go to bed early, to be lulled to sleep by the surf.
I wake up early to walk to the island's east coast and watch the sunrise. It's overcast, though, so I stroll to the west shore instead, and follow a sign pointing to "The Sunset".
The path emerges onto the flank of a stony ridge extending down to the water. There are no sandy beaches here, but the view of other islands in the national marine park is magnificent.
Snorkelling masks can be hired for 100 baht ($3.36) a day, and the next morning I spend hours relishing the underwater views. The coral off the northwest coast is dying, but the water is clear and you can see trumpetfish, parrotfish and even clownfish hiding in their fluorescent anemone homes.
Better snorkelling is a short walk away at the eastern end of the atoll, near the Ao Yai Ma bungalows. You can also hire kayaks and explore reefs further offshore.
Turtles and dugongs have been seen, Ran says, and dolphins occasionally visit around March. In high season you can take a long-tailed Island Hopper boat to the surrounding islands.
A dreamy two days of eating, reading, snorkelling and lying undisturbed on the beach left this sinner feeling saintly.
Be warned, though: if you want to enjoy this paradise on earth, you'll need to get in early.