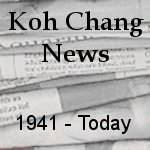 Mar 17, 2008
Koh Kood, an unspoiled island off the coast of Trat, could become the next Koh Samui under a development plan drafted by the Treasury Department.
The department is planning to build a small commercial airport on the island, which would significantly open up tourism development.
Ranongrak Suwanchawee, a deputy finance minister, has asked the department to submit its development plans for approval by the cabinet.
The island, the country's fourth largest in size after Phuket, Samui and Koh Chang, covers 80,000 rai and has been under the control of the Navy since 1967. The permanent population is only 1,800.
The Treasury Department has mapped out an eco-tourism development plan calling for the construction of an airport, a waste management facility, ports and water and electricity plants.
It has asked for the Royal Thai Navy to return supervision of 65,000 rai on the island for eventual development, with 10,000 rai to remain under military control. The remaining 5,000 rai would remain in the hands of long-time residents present before the 1967 law declaring the island state property.
Insert your own 'Koh Kood – Paradise Lost' reference here. However, the Navy don't like to give up land which will probably slow the pacce of development. On Koh Chang they have been busy walling off large sections that belong to them.