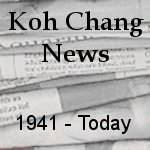 The weekly Thai language 'Klong Prao Gazette' (incorporating the 'Chai-chet Sentinel' and 'Kai Bae Advertiser') has long been regarded by it's owner as the last, indeed only, bastion of free speech in the Klong Prao area.
As such it's a weekly must read for all sober locals with 10 minutes free time on their hands. Now, farangs are able to get an insightful glimpse into what's really making the news on Koh Chang. These stories have been translated exclusively for the 'IamKohChang' website . . so count yourself lucky to have found this page.
Items plucked from this week's edition:
Missing girl found
Nong Lek returns home after 12 hour absence
At a hastily arranged press conference Sunday morning, Mrs Somalee na Talad confirmed that her only daughter, 17 year old Lek had safely returned home after an absence of 10 hours. Only 10 minutes earlier, Cpl. Yuttichai from the Klong Prao police box had made a brief statement backing up the rumours that the police search, involving both members of the force, had been called off at 8.15am.
The drama began late Saturday night when Nong Lek, described as a "beautiful and funny girl with white skin" by parents, neighbours, friends and total strangers alike, didn't return home from work at her new job as a waitress at the nearby 'Heaven & Beyond' Isaan Karaoke restaurant. Restaurant staff recalled how Nong Lek was last seen talking with a middle-aged man just after the restaurant closed at 1 a.m. At 2a.m., fearing the worst, Mrs Somalee contacted local police who, the moment the morning shift began at 8a.m. leapt into action and ordered a search of the area.
A tired and slightly disheveled Nong Lek eventually made her own way home at 8.05a.m. It transpired that her mobile phone battery had failed and therefore she was unable to call her anxious mother to explain that she had stayed the night with a friend. Comforting her tearful Mum, Nong Lek promised to use some of the 1,500 baht in tips she received the previous night to buy a new battery. In an exclusive interview with the Klong Prao Gazette, a relieved Mrs Somalee vowed to issue a multi-million baht lawsuit against Nokia for selling substandard batteries with their phones.
Apology
'MSG free' noodles
The Klong Prao Gazette unreservedly apologises to Mrs. Paveena of 'Paveena's Restaurant, Laundry and Motorbike rental', Chai Chet for any misunderstanding or loss of revenue caused by a printing error in our last issue. The offending article was titled 'Pavenna's restaurant now offers MSG free food' which should, of course, have read 'Paveena's restaurant offers free MSG in food' Once again our apologies to Mrs Paveena who serves up mouthwatering MSG enhanced dishes at very reasonable prices.
New Arrivals
"Oh my god it's sextuplets!"
Those were the words that greeted the arrival of six new babies in Wisut and Kannika Chowlay's house last Wednesday evening. The mother, a Thai ridgeback cross poodle, named 'Beckham' her two sons and four daughters are all said to be doing fine. If anyone would like a new puppy please contact Mr Wisut as any unclaimed within 6 weeks will be given to family friends in Sakhon Nakhon.
Self-study pays off for Klong Prao native
Local builder surprises friends and educators by expanding English vocabulary
26-year old builder Kasem Bundit, a graduate of Grade 4, Klong Prao School, is today being hailed by former classmates for expanding his use of English as a second language. It was late last Wednesday evening that Mr Kasem unwittingly became the central character in what's being called by at least one interested party "a major step towards English language proficiency in the Klong Prao sub-district".
Mr Kasem takes up the story; "I was enjoying a couple of beers with friends whilst watching Channel 3. At 10pm the sports news came on and our topic of conversation moved to the recent fortunes of the England team. Pee Joy said his favourite player was Beckham, Somchai said he preferred Owen, Bee mentioned Gerrard, Duang also plumped for Beckham and then it was my turn. I said "Ledley", of course referring to England's fifth choice centreback the versatile Ledley King. An odd choice perhaps, but he does appear very comfortable on the ball, has a good engine, likes to get forward for corners and free kicks and is one of the unsung heroes for both club and country."
"This was misheard by my colleagues, who thought I had said "Heskey", which reduced them to fits of laughter. I repeated myself "Ledley". Although I hadn't uttered the word 'Ledley' in public before, I had been practicing the pronunciation for several weeks, it was only when I has confident I could pronounce it correctly that I decided to say it in front of an audience as it does sound a bit like "Heskey" and saying that would be rather embarrassing."
Mr Kasem's former English teacher told the Klong Prao Gazette that this was just one more example to kids that they should never stop learning languages even in adult life, "Kasem has set an example for all of us to follow, learn one new word a month and given enough time you'll be fluent." noted Ajarn Timjan. In keeping with his newfound status as a role model for the youth of Klong Prao, Mr Kasem confided to our reporter that European languages were his real first love and that he now aims to add the names of all Italian Serie A teams to his vocabulary. There appears to be no stopping Mr Kasem's desire to learn!
'What's on?'
Our annual guide to events in the Klong Prao area
It's time once again to review the planned events for 2008-09 in the Greater Klong Prao.environs. Unfortunately the proposed beauty contest had to be cancelled due to a lack of suitably qualified contestants but let's not let that get in the way of enjoying the full range of events taking place in the Klong Prao municipality over the next 12 months.
January –
February –
March –
April –
May –
June –
July –
August –
September –
October –
November – Loy Krathong Fair at Klong Prao Temple. Two days of fun filled frolics, including food stalls, clothes stalls, bingo and a mini-disco.
December –
Kidnap scare for local family
Found missing girl missing again
Klong Prao police box was again placed on a state of alert after Mrs. Somalee na Talad reported her daughter, Lek, had been kidnapped by two men, this coming only 72 hours after Nong Lek went missing overnight. After the recent scare Mrs Somalee took it upon herself to escort Nong Lek home from the Heaven & Beyond Isaan Karaoke restaurant, where she works as a 'waitress'. However, as Mrs Somalee arrived at the restaurant she spotted Nong Lek getting into a pick-up with two unidentified gentlemen. The truck then sped off into the night, in the Kai Bae direction.
Upon hearing the news, recently promoted Police Sgt. Yuttichai ordered a search of all dingy & discreet short time bungalows in the Kai Bae area to begin within 24 hours if Nong Lek failed to reappear. Fortunately for all concerned, Nong Lek made her own way home early this morning explaining to her tearful mother how she had stayed with a friend and her friend's brother and his friend had given her a lift from the restaurant as rain was forecast.
Reunited with her Mum, a weary Nong Lek shook her mobile phone in anger as she explained her Mum's number had mysteriously been deleted from it's memory, thereby making her unable to inform her worried parents of her whereabouts. Immediately after finishing the interview, Nong Lek rushed over the road to Mr. Suchart's phone & noodle stall to use her 3,000 baht in tips from the previous night's work to put a down payment on a new Nokia N90, complete with wifi and GPS.
In related news, sources say the, again relieved, Mrs Somalee has instructed her legal team to revise her proposed multi-million baht lawsuit against Nokia for faulty batteries to include faulty internal phone memory.
IT Start up zone mulled
Klong Prao developer keen to reverse the brain drain
Somchai Shinawatra has never been one to do things by halves. Since changing his surname two years ago after being inspired by his, soon to be lesser well known, namesake's autobiography to revolutionising island transport with his '40 baht for a half litre of petrol sold in an old whisky bottle' concessions it's no wonder he was recently named 'Koh Chang's Young Entrepreneur of the Year 2008'.
Now having, what he modestly describes, as a four figure bank balance, and Somchai is set to take on the large corporations with his plan to attract multinationals to Koh Chang. "I envisage one or two hi-tech start ups initially each occupying up to 1 rai of prime land at the rear of my parent's house in Klong Prao."
Somchai goes on to mention just a handfull of the names he hopes 'Somchai's Motorcycle Rental and Hi-tech Industrial Park' will attract. "Samsung, Philips, LG, Intel, Seagate, Sun Microsystems, Microsoft. I've emailed them all with an open invitation for their chairman to call in for a chat if they are on Koh Chang." In fact, he lets slip that he's also offered a free day's motorcycle hire to any executive who responds to his email. Call it bribery if you will, Somchai says it's "Just business" as in the international business world "you have to be prepared to get your hands dirty at times."
Although Somchai admits the response has been sluggish to date, he's sure that his package of well-priced farmland, "We'll cut down as many of the coconut trees as you require" ideal location, "There's a minimart and two karaoke restaurants only minutes away" and abundant natural resources, "A fresh water bore hole that hi-tech tenants can hook a pump up to, will be dug on the land." "I guess some of them will be able to use a computerised pump." he quipped.
Incentives are essential to any industrial development project. Fortunately, Somchai has all the bases covered. "I looked at offering BOI status to start-ups and applying to the central government in order to set up a tax free industrial zone. However, my father is a good friend of the local tax collector so 'tax-almost-free' status can easily be conferred on investors. Additionally, it's our land so you can do what you like so long as my Dad agrees to the plans." Plus, with family members also in the squid fishing business, exporting to the growing Cambodian market by sea need not be a problem.
Interested? Call into any roadside stall that sells petrol in old whisky bottles and ask for Somchai.
Appointments
The management of Baraliramalamayaanapuri Resort and Spa are delighted to announce the appointment of Miss Sritara Chewit as 'Token staff member who can speak English to a reasonably competent level.' Announcing the appointment, hotel owner Suwit Litpanop noted that Miss Sritara had indeed graduated and also proved herself more than competent in answering questions other than those which had been rote learned at primary school. Duties include not automatically deleting enquiry emails which are received via the hotel website, being on call 24 hours to deal with foreign guests checking in and out and answering picking up the phone rather than ignoring it on the off chance that it may be a western caller on the other end of the line. We wish her well.