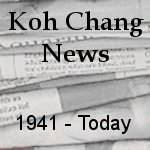 Mar 19, 2008
Koh Chang Hoteliers seek better roads, water supply Hotel operators on Koh Chang have urged the government to improve transport infrastructure and build a water pipeline between the island and the mainland in order to boost tourism.
Koh Chang Hotel Association president Somkiat Swangswai said hotel operators are facing a shortage of water. The problem becomes particularly serious during the peak season. Somkiat urged the construction of a five-kilometre water pipeline from the mainland to the island
Tourism operators are also suffering from inadequate land transport infrastructure.
"If the government wants to have more tourists, we are calling on their agencies to solve these problems," Somkiat said.
The association will lay out problems and propose solutions to officials of Designated Areas for Sustainable Tourism Administration (DASTA), a body of the Tourism and Sports Ministry that is scheduled to hold a mobile meeting on the island late this week. A tourism master plan for Koh Chang is expected to be discussed at the meeting.
Somkiat said more than 1,000 rooms are expected to open on the island in the next one or two years. Most of the new properties will be over three-star level so they need a well-developed infrastructure.
There are 170 hotels and resorts on the island today.
"The number of quality tourists will increase along with upper level hotels. One million tourists visited the island last year. The opening of Trat Airport and better roads are major keys to drive the tourism industry," Somkiat said.
Voravut Uksonsuwan, owner of Dusit Princess Koh Chang, said the company planned to build a second hotel on the island called Dusit Thani Koh Chang.
The project will be located next to Dusit Princess Koh Chang, which held its grand opening ceremony on Monday. The new property will consist of 79 villas and the company expects to spend Bt500 million for construction next year.
The company is also planning to build hotels on Koh Kood and Koh Mak, near Koh Chang Island, as well as Hua Hin, Phuket and Koh Samui.
Voravut said the Dusit Princess Koh Chang is aimed at tourists from Europe, Korea, Japan and China.
The hotel is expected to run an average occupancy rate of 60 per cent this year and up to 70 per cent next year.
The Uksonsuwan family expanded into the hotel business a few years ago after running a shipping business for more than 30 years. For 10 years it has run the ferry service between Koh Chang and mainland Trat province.
The Dusit Princess Koh Chang is the family's first hotel, costing Bt420 million.
Chuchart Oncharoen, director of the Trat office of the Tourism Authority of Thailand (TAT), said the number of tourists visiting Koh Chang is expected to grow by 10 per cent this year. According to TAT, at least two luxury hotels, X2 Resort and Six Senses Hotel are set to open on Koh Kood in the near future.
Last year, Centara Group opened a new hotel on the mainland. Other hotels, including Dewa, Ramayana and Aiyapura Resort, opened their doors earlier.
Not sure where the figure of 1 million visitors comes from. That's not far off double the official TAT visitor figures for 2007. As of mid 2009, still no sign of a water pipeline from the mainland. And idea first proposed in 2002.