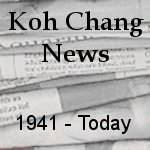 Aug 19, 2008
Chief of Customer Services for the Regional Electricity Authority of Trad province Somchat Tunwattana stated that heavy rains in the district of Koh Chang caused wide spread outages throughout the night and early morning.
Mr. Somchat stated that the rains damaged an underground cable which cut off all electricity supplies to the island. Authorities from both Trad province and Chonburi province are now expediting repairs to the cable and are expecting to restore power to Koh Chang by 2 PM today.
Fortunately, power cuts are pretty care.   usually only in the rainy season and it is very rare for the electricity to be off for more than a few hours.