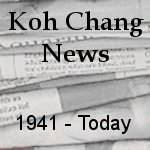 Dec 12, 2008
Foreign tour bookings drop to 'crisis' level
PHUKET : Tourism operators in the Andaman provinces of Phuket, Phangnga and Krabi have called for support from the authorities, banks and holiday-makers to help revive their sagging business, caused by the recent closure of Bangkok's two airports.
Thanyaras Atchariyachai, chairman of the Senate committee on tourism and owner of the Kata group of hotels, said the tourism crisis is more serious than in the immediate aftermath of the 2004 tsunami.
The Kata group reported a 70% drop in reservations, he said.
"The crisis could drag on for three years. Operators need help from all parties, including soft loans from banks, a property tax discount from local bodies and the return of no-frills airlines," said Mr Thanyaras, who is the senator for Phuket.
He was speaking at a meeting in Phangnga on finding solutions to the problems.
The meeting was told no new hotel bookings had been made for the coming low season, which starts in May, since the week-long occupation of Don Mueang and Suvarnabhumi airports by the People's Alliance for Democracy early this month.
During the low season earlier this year, the three coastal provinces welcomed about five million visitors and earned more than one billion baht in tourism revenue.
Phuket has more than 40,000 rooms, Phangnga 4,000 and Krabi 10,000.
Tour agencies in the three provinces have reported 80% cancellations and no new bookings. Many hotels have already asked staff to work only 15 days a month.
The Tourism Authority will run a "Thais travel Thailand" campaign to encourage local travellers, Setthapan Puthanee, director of zone 4, said.
Chamnan Srisawasdi, of the Krabi tourism association, agreed encouraging domestic tourism was a good idea because foreign holiday-makers were shunning Thailand.
The association planned its own campaign, "Travel the high season at a low season price".
Methee Tanmanatragul, president of the Thai Hotels Association's southern chapter, said he had proposed a mega campaign, with the government as the host, offering special discounts in all tourism sectors to lure foreign tourists back.
Koh Chang, in Trat province, reported an unprecedented high level of hotel vacancies over the New Year.
"The island will hold a count-down party for the first time this year and hotels will offer a 20-30% discount," said Sophon Chanderm, president of the island's hotel and resort club.
This past New year was busy, but still not as busy as previous years.   Usually   many hotels have tent cities in their gardens catering to large Thai groups.   That wasn't the case this year.     Also worth noting that prior to the economic crisis, the number of Thai visitors to Koh Chang had dropped around 20% in 2007 compared to 2006 according to TAT statistics.