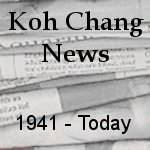 Dec 19, 2008
TRAT : A fire raged through a shopping arcade on the resort island of Koh Chang early yesterday, causing more than 50 million baht in damage.
Shops damaged by a fire which broke out in the VJ Plaza shopping arcade on Trat's Koh Chang early yesterday. The cost of the damage is put at more than 50 million baht.
The fire started at a tailor shop about 3am and later spread to neighbouring shops at VJ Plaza.
Steep slopes and rough roads hindered the efforts of firefighters from other units to reach the scene. They spent two hours dousing the fire, which destroyed 16 shophouses and partially damaged six others. Three neighbouring houses were also damaged. No one was hurt in the drama.
Plaza supervisor Mongkol Yongsongserm said the blaze might have been caused by an electrical short-circuit on the second floor.   Sakon Suknet, former chairman of the Koh Chang Tourism Association, whose shophouse was also damaged, said the damage was extensive because of poor emergency responses on the island.
"The incident should be a wake-up call for agencies to come up with efficient emergency response operations for the safety of residents and tourism operators on the island," he said.
The fire happened at night, fortunately everyone woke up and no-one was injured but some of the shop owners had lucky escapes.   Most of the fire was put out by local residents as it took over an hour for the fire engine to arrive, as it is based on the opposite side of the island and also need to be filled with water. The damaged shop units were knocked down and are being rebuilt ready for the 2009-10 high season.