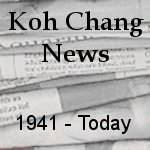 August 12, 2008
A Chinese tourist drowned yesterday when he was caught by a strong wave at a beach on Koh Chang.
Sui Jia Yuan, 46, was swimming off Bang Pao beach in front of the Siam Hut Resort about 7.45am when his friends saw him being dragged underwater by the wave.
Earlier, Surachai Pransil, the chief of Mu Koh Chang national park, had warned tourists and business operators it was too risky to swim in the sea because of the bad weather. Warning signs have been put up at several locations.   However, the victim and his friends were not notified about the warnings.
Kobchai Boon-orana, the chief of the Trat provincial disaster prevention and mitigation office, said flash floods and mudslides, caused by a depression, could be expected in several eastern provinces, particularly Trat.
Worried that foreign tourists would ignore the warnings and venture out to swim, he has instructed operators of resort hotels and restaurants to warn visitors not to take any risks.
There were several locations in Bo Rai district of the province which were vulnerable to mudslides, he said, adding that warning signs have already been put up there. Boats should remain ashore during this period, he said.
Should be Lonely Beach rather than Bangbao Beach, where he drowned.