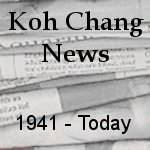 Dec 29 2008
Thai and foreign tourists participate in writing New Year greetings on the world's biggest postcard in Koh Chang Island.
Post Office Chief in Koh Chang Thaweesak Wongwilat (ทวีศักดิ์ วงษ์วิลาศ) said that the province, in collaboration with the Trat Tourism Association and the Tourism Authority of Thailand Trat Office, organized "Koh Chang Countdown and Seafood Festival 2009" at Hat Sai Khao (หาดทรายขาว) beach in Koh Chang district. During the festival, the participants wrote New Year greetings on the biggest postcard of 18X13 meters.
The festival would last until the last night of 2008 and the Koh Chang post office would send the postcard to Guinness Book of Records for approval.
A quick Google search turns up a card that was over double the size that was mailed in Russia in 2007.   Pity the organisers didn't consider doing a little research before their record attempt.