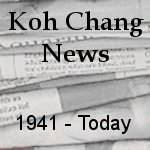 March 17, 2007 ( Daily Telegraph, UK)
Fine wines, chefs on tap and strictly rationed Russians. Nicholas Roe has a taste of the high life in Thailand
They're selling homes in Paradise and if you want to claim your own little bit of it, all you have to do is withdraw a couple of million quid from your rainy-day fund and jump on a plane to Thailand.
An example of the type of accomodation offered by the exclusive Soneva and Evason brands
Twelve nodding hours later, Bangkok explodes into view, and you swap your jumbo jet for a smaller, cosier aircraft and fly south for a further 20 minutes. Then all that remains is a short, exhilarating speed-boat ride over the shining waters of the Gulf of Thailand, thundering through frothed waves like James Bond on his way to another exotic assignment. And you're there.
Welcome to the end of the rainbow, to Fantasy Island, Paradise or whatever you'd like to call this luxury retreat created specifically for the super-rich. Here lies a brand-new, £52 million development that promises to provide not simply an investment opportunity for top-of-the-range second-home owners, but a lifestyle beyond the wildest dreams of ordinary people.
Just 20 minutes from the Cambodian border, on a fenced slice of the little-known, remote Thai island of Koh Kood, large new villas are being offered for sale amid a backdrop of empty beaches, soaring palms and guaranteed security. Individual homes cost between £1.3 million and £2.3 million and "you will want for nothing", according to the brochure.
The development is "remote" in the modern fashion that never loses sight of comfort. A butler? Of course: one will be waiting at your property. Fine wines? By the case. Gourmet meals? Little else. advertisement Telegraph – Menswear/Shoes
The road to Paradise began some 15 years ago when a young Eton-and-Oxford-educated, Indian entrepreneur, Sonu Shivdasani, and his Swedish wife, Eva, set up a company that aimed to redefine the idea of small, exquisite, luxury holiday resorts. The glamorous couple combined their two first names to produce the Soneva and Evason brands, which flourished along with Six Senses Spas.
Do you want to know how gorgeous a Soneva hotel really is? Then stay at either of the two flagship resorts in the Maldives – Soneva Gili, a 15-minute speedboat run from the capital Male, or Soneva Fushi, 30 minutes from the airport by seaplane. Here, where shoes are banned, the sand is warm and facilities endless (wonderful wines, lovely beach restaurants, a gently natural environment composed of thatch and local wood), the bottom line is soberingly stiff: holidays can easily cost £15,000 a week for a couple, although that does include flights from Britain.
Madonna stayed at Soneva Fushi with her family over the New Year, leaving her own, hand-scribbled entry in the hotel guestbook under the gushing headline "Five definitions of heaven".
Heaven for the Queen of Pop meant, inter alia, "riding bikes barefoot in the moonlight, not wearing shoes for eight days and watching movies in the outdoor cinema under a starlit sky…" Madonna is not known for stinting on luxury. Which explains why the villa I stayed in at Soneva Gili came with a live-in butler and cost £6,500… a night.
What is different about Soneva Kiri, currently being built on that Thai island of Koh Kood, is that you can buy your luxury villa rather than merely renting it. Sales on Soneva Kiri begin next month and the development should be open for business by November. Eventually it will comprise 40 rental villas, a "retail village" (think crafts and ice-cream parlours rather than Tesco), an outdoor cinema, three restaurants, spa facilities – and 39 villas for sale at up to £2.3 million apiece. This is discreet, safe, get-away-from-it-all charm, with privacy guaranteed. "Security is not an issue," says project manager Michael Sweet. "No one will be allowed on the property." He means, of course, no one without sufficient readies.
For serious buyers, there will be a dedicated airstrip on a neighbouring island half a mile away and a private – and free – shuttle by a sumptuously fitted Cessna direct from Bangkok airport that can more or less meet your incoming flight.
When I visited Soneva Kiri, only two of the saleable villas were near completion, but even in their unfinished state, it was clear that these places will be fantastic – airy, light, rustic and beautifully sited in discreet, one- and two-acre plots. Each offers either four or six bedrooms, with a minimum of 1,275 square metres of space (a third of an acre): it takes several minutes simply to walk round a plot and give it a cursory inspection. All the villas have ocean views, with the best sited right down beside the beach and the cheaper ones (these things are relative) just one minute up the hill (naturally, you get a golf-cart to save your feet).
Each villa incorporates local materials, including island-grown bamboo, and where timber is imported, it comes from sustainable forests. There's even an organic vegetable garden. The irony, of course, is that you have to fly halfway round the world, very possibly in your own Lear jet, in order to enjoy this environmentally friendly charm.
But, according to Sonu Shivdasani, whom I met in a Bangkok hotel, the concept behind the development – indeed, the whole company – is based on a series of oxymorons: "If you get oxymorons into your business, it is a sign of success," he insisted. Such as? Well, "remote but accessible" is the lead claim – and it makes a strange kind of sense. Koh Kood is so cut off that you might as well be on the moon. But that Cessna can soon enough whisk you back down to earth.
Another sales slogan is "intelligent luxury", which essentially means that the days of old-style wealth, when the elite lived on grand estates and visited cities for their sophisticated pleasures, have now gone. In their place you have the era of Bose sound systems in your thatched beach-view bedroom; spa-treatment rooms at home with visiting masseurs; a finely stocked wine cellar; even a cinema of the poshest kind (built on stilts over the water). All this with your toes in the sand. advertisement Telegraph – TravelShop
Sonu Shivdasani (who was at Oxford with David Cameron) suggests that about half the buyers for his new project will put their homes into the resort's rental pool for part of the year. The other half – the richer half, presumably – will keep them solely for personal use.
There will be a basic management fee of up to £2,600 a year which pays for certain maintenance services, including an in-house butler during your visits (you will be expected to pay tips, too); then fees mount as you use discounted resort services such as a visiting chef, restaurant meals, spa treatments and so on.
So you arrive and find your fridge stocked, and when you go, they take care of the crumbs. Then, if you decide to use the resort management to rent out your home, an additional set of fees applies, depending on how much you make.
It is too complicated to explain in detail, but clearly a snappy team of lawyers and accountants has produced a financial package that they say could mean a return of between 6 and 10 per cent on capital if you rent the place out for about 40 nights a year: these villas may command as much as £3,100 a night. Land prices are reportedly one-tenth those of the much more developed island of Phuket, so there may be capital appreciation, too. In other words, renting out your second home could theoretically pay your own holiday costs and make a profit on top.
Of course, this being Paradise, there are one or two snakes slithering through the legal grass. Crucially, foreigners can't buy freehold property in Thailand, so there's a complicated set-up for this resort which lets you buy the fabric of your home but not the land itself. Instead, an offshore company is set up, in which villa-owners hold controlling interests, with a Thai nominee as "owner". You then take repeating leases from this company in tranches of 30 years up to a quoted potential of 120 years – possibly longer, although that has not been tested in law. Buyers, of course, won't be short of a bob or two to spend on local legal advice.
But who will buy? Sonu Shivdasani says: "I think you will have people who are struggling to find areas to put their money. Clearly, the profile is baby-boomers, and I think more of them want homes in the managed estates because they are busy individuals." Interestingly, allocation of villas will be by nationality, presumably to avoid cultural ghettos, so the first batch of 20 – all bought off the book, then built in 10 months – sees three earmarked for the Middle East, three for India, three for Britain, but just "one or two to Russia". Make of that what you will.
So what can buyers expect? I was given a chance to experience the lifestyle that awaits in Soneva Kiri in similar villas back in the Maldives, at Soneva Gili, but it is hard to assess, largely because those of us unused to wealth have no idea how to plunder the possibilities. "You are not using me enough – is there anything you need to enhance your stay?" pleaded my exquisitely efficient butler, Yasir.
I did my best. Tea on the sundeck, chocolates in my room, sudden irrational demands for a laptop, even a visiting chef for a private meal. All these "needs" were dealt with impeccably and they even ironed my underpants. But still I only scratched the surface of exotic demand. It seems there is no place for me in Paradise. I haven't got the imagination. Or the money.
Big delays at Soneva Kiri Koh Kood, still not open as of mid-2009.   The villas havent really been designed to suit the far wetter weather   you get here compared to The Maldives.