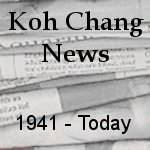 22 March 2007
Whale carcass reported near Koh Thun
The Koh Rang Conservation unit of Trad province reports finding a whale carcass in the vicinity of Koh Thun
The Deputy Director of the Mu Koh Chang National Park, and head of the Koh RangConservation unit, Mr. Anothai Ngamsa-ngeum , said that local residents in the Koh Thun area have reported a large whale carcass trapped near the island's barrier reefs. Mr. Anothai said that the whale had a large wound on its neck, and was believed to have suffocated after becoming trapped in a fishing net.
Local residents reports that the whale was 7-8 meters long, weighted at least 2,000-3,000 kilograms, and had been dead for no less than 2-3 days. Local National Park officials in the Koh Chang district were notified of the matter but were unable to locate the whale carcass during an investigation of Koh Thun yesterday (March 21).
National Park officials believe summer storms swept the whale out to sea. Fishermen who encounter the whale are asked to notify officials so that the carcass can be recovered for scientific study.