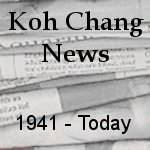 March 21, 2007 ( Asia Property Report)
With the traditional resort property hotspots of Samui, Phuket and Pattaya receiving so much attention from investors in recent years, it's not surprising that prices are skyrocketing and beach front land is becoming scarce.
This means that – as the tried-tested-and-true formula witnessed in global real estate markets dictates – there will always be savvy investors looking to get an early start on the next big thing.
The key to developing in emerging markets is that there has to be some degree of facilities already in place, says Robert Collins, managing director of Savills Thailand.
"The tourists have to pave the way to the destination," he said. "For these emerging markets, accessibility is the key because the kind of buyers than can afford the more expensive properties are already travelling a great distance to get to Thailand. The last thing they want to do is get into a taxi or bus at the airport in Bangkok and travel another four or five hours to get to a resort and get a ferry ride and another taxi. Developers need to bear in mind how people are going to get to that resort. People will make the effort but it has to be priced accordingly."
Property Report took an in-depth look at three destinations that have indeed already laid the groundwork and are now starting to attract major interest from buyers: Koh Pha Ngan, Krabi and Koh Chang.
For those in the know, these resorts are certainly not new destinations on the travel or property trail. But it's only been in recent years that they've been starting to make a name for themselves on a more international scale, as intrepid investors shy away from the pricier traditional hotspot areas.
And, notably, the big name property management firms have yet to move in, a sign they still fit under the up-and-coming banner.
Koh Chang development limited
With its mountainous jungles, waterfalls, unspoilt beaches and relatively quiet atmosphere, Koh Chang is an eco-lover's dream. Located in the eastern part of the country in the Gulf of Thailand, over 80% of this island is part of the Koh Chang National Marine Park, a fact some say will prevent it from being over-developed with hotels and residences.
The island's western region is where most development is taking place, due mainly because that's where the more picturesque beaches lie.
Siam Royal View was one of the first developers to build a large-scale project on the island; a high-end 360-rai villa and bungalow development north of the popular White Sand Beach. Prices start from as low as Bt2.8 million for a one-suite bungalow up to Bt17.1 million for a 732sqm villa.
David Walton, sales and marketing director of Siam Royal View, says the first phase of the project sold out during the high season last year and construction has already begun. One key to the company's success is the accessibility of Koh Chang, he says.
"We'll be offering secure parking for residents on the mainland and a taxi service with our own speedboats specifically for residents. So literally they can be door-to-door from Trat airport to their homes in 30 minutes."
This keeps in line with Savills' Collins comments that high-end buyers aren't interested in lengthy commutes to their holiday homes. Bangkok Airways offers a three flight a day service from Bangkok to Trat. So for Bangkokians, the 45-minute flight makes for an ideal weekend.
"We're very pleased by the fact we've had a very consistent level of inquiry from Thai nationals, a lot of them coming from Bangkok. As a guestimate I'd think that over 50% of sales has gone to Thais, which is very encouraging for us," says Walton.
Other notable developments taking shape on the island include Tranquillity Bay, an exclusive residence comprising 74 one, two and three bedroom condominiums, all of which will be fully furnished. Additionally there will be 10 luxury pool villas.
Siam Royal View's Walton says it's doubtful other large developments will follow in their footsteps, due mainly to the tight restrictions placed on the island.
"If you look at the current projects and current developments already in place on the island, you'd have to say pretty much 10% of the island is already developed or under development. I believe what we'll continue to see are one-off small developments where something effectively has been taken down and replaced. But nothing on a big scale."
Walton says Koh Chang's geography is quite peculiar in that all the developments lie directly on the coast. Because the island slopes to a high point of about 743 meters above sea level very quickly, it doesn't give developers a lot to play with.
"You're not going to get highways built on Koh Chang. It would be impossible in engineering terms and even if it were it would be prohibitively expensive. I think the island is pretty much going to remain what it is, which in my view is a good thing."
Other governmental restrictions will keep the island from becoming too developed. The maximum height allowed for buildings is three stories and anything built directly on the beach front in terms of residential property is limited to one storey only, meaning it sits under the palm fringe.
Also, the island isn't home to rows of nightclubs and bars or the amenities that attract the truly wealthy such as luxury shopping or high-end restaurants. This means that those looking for wild nights in the fast lane would be better off taking their cash west to Pattaya. But for those looking for a peaceful and relaxing getaway, few destinations in Thailand can offer a more suitable setting.
High-rollers beginning to eye Krabi
Of our three featured destinations, Krabi is perhaps the best known on the global travel circuit, thanks to its international airport and the presence of a few five-star resorts. But it's only been in the past two years that property development in this province has really followed suit – albeit in limited numbers.
Bordering the Andaman Sea, this coastal resort province attracts countless visitors thanks to its natural attractions such as white sandy beaches, coral reefs, caves, waterfalls and giant limestone cliffs. A number of carriers offer direct flights from Bangkok daily, and there are also direct flights from Singapore.
And for property investors, it has the infrastructure to support its growing popularity.
"Krabi really benefits from having the best of the resort airports in the country. It's a new airport that's way ahead anything else," says Savills' Collins. "The road network is practically new throughout the entire area and is way ahead of other locations. This is where Krabi really is ahead of the game. It has the infrastructure in place, what it lacks, if anything, is there isn't enough supply in Krabi."
There are only about seven notable developments being built in Krabi at the moment. Of those, the really high-end ones are Amatapura (represented by Savills), The Cove, LeKiri and Phulay Heights.
"It is a coincidence that Lekiri, Krabi Sunset, The Cove and Amatapura launched at almost the same time , says Ekaraj Intravisit, managing director of Le Kiri. "Maybe everyone can see it is time to reveal the charm and beauty of this Emerald to the world ´s eyes. For me, deciding to buy this land took me a very short amount of time."
Le Kiri features eight spacious villas ranging in size from 606-808sqm. The project is located on the beachfront at Nammao Bay. Prices range from Bt15 to 18 million for villas and Bt7.5 million for Triplex apartments with private swimming pool. Phulay Heights' 52 villas lookout over Phang Nga Bay In Klong Muang.
Krabi's largest project is The Cove, at Haad Yao. More than 1,000 rai is being developed into more than 1,200 residential condos and villas, branded hotels and an 18-hole golf course.
Collins says more development for Krabi is eminent, but there are restrictions in place that will limit the quantity and volume of the developments that can go ahead. "Everyone's looking at Krabi now. In terms of property you can buy, Amatapura is without a doubt the top development. I think Amatapura has the potential to become the role model for krabi in years to come."
This project on Laem Pho features 29 beachfront villas and is 60% sold. It received a lot of attention from Hong Kong buyers following its launch last year and prices range from Bt25-40 million baht.
"We're seeing a strong trend towards Krabi in preference to Phuket these days, and definitely the sales rates for Krabi seem to be slightly better than Phuket," says Collins. "As much as anything the environment is less developed so far and the pricing is reflective of the fact it's a relatively new market and can't match the Phuket market. And I think that's possibly a reflection that Phuket and Samui are overpriced rather than Krabi is cheap."
Koh Pha Ngan learns from Samui
The name "Koh Pha Ngan" is by no means foreign to world travellers, but until recently, it was spoken primarily among the backpacker set, drawn to its rowdy all-night Full Moon Parties held every month.
Today, the hippies still come, but the island is opening itself up to high-end property development as well, as more people look to escape the crowds of Samui for Koh Pha Ngan's less crowded beaches and laid-back atmosphere.
Companies such as WOW Properties, KP Properties and Sage Land and House offer a number of residential property development projects and land, most of them situated in exclusive and secluded headland locations with spectacular views and remote locations that certainly rival what many see as the overdevelopment on Samui.
Land prices on Koh Pha Ngan are still comparatively low, and beachfront land is by no means scarce. Prices vary greatly depending on the location, with the average price for hill plots going for about Bt1.5 million while beachfront land goes for an average of Bt4 or Bt5 million, depending on the quality of the land, of course. Land plots with prime views obviously command much steeper prices. There aren't any notable large-scale developments going up as of yet, but many of the island's residents say it's only a matter of time.
"Things are moving but the developers are cautious, waiting to see what happens in the next few months," said one surveyor who asked not to be named."Compared to Koh Samui our infrastructure is actually a lot better. Koh Pha Ngan has learned an awful lot from Koh Samui. The people in power are quite proud of the fact that we built our roads wide already and with big drains so we don't have to dig up the sides of people's houses to put in the storm drains. Once you get to Koh Pha Ngan, the only place you can really land is Tong Sala, so there's no need for a massive highway network."
Even if you missed out in 2007, don't worry there are still units available at all of Koh Chang's housing developments.