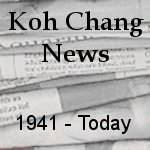 Feb 01, 2007
(The Star, Vancouver)
After a buffet breakfast loaded with papaya and fuchsia-skinned dragon fruit, I stretched out on a deck chair and stared across the sea at Koh Suwan, a double-humped island that looked like a floating bra. Not just any bra – but a bra with a sense of humour – green and furry, slightly lopsided, one breast larger than the other.
While it was a mere speck compared to Koh Chang, the island I was on, Koh Suwan looked uninhabited and tranquil, fuelling my Robinson Crusoe fantasy of being alone on a deserted island.
The quest to find the next unexplored island in Thailand has long been a tourist cliché, but nonetheless that's why I'd come to Koh Chang. Located off Thailand's east coast, near Cambodia, Koh Chang is Thailand's second-largest island after Phuket, yet it remained relatively unknown until after the 2004 tsunami when vacationers started searching for alternatives to the hard-hit islands in the south.
For island seekers, it's the tip of a treasure trove, part of an archipelago of 52 islands that make up a marine national park.
As one of Thailand's latest "it" islands, Koh Chang is quickly becoming cluttered with beachfront hotels.
Its saving grace is its mountainous interior. Coated with lush rainforest, it remains largely untouched, sheltered by its status as a protected parkland.
Once I'd arrived in Koh Chang I'd intended to stay put, mainly because my hotel, the Amari Emerald Cove Resort, was an airy sanctuary with lotus ponds, pavilions and an eager-to-please staff.
Yet, as I lolled in my deck chair under my shaded umbrella, Koh Suwan beckoned across the South China Sea.
It didn't look more than a kilometre away. Rousing myself, I walked over and asked the attendant doling out towels.
"Is it dangerous to kayak out to that island?"
"Not at all, sir," he said. "There is no current. It's quite safe."
Apart from the fact that I am not a sir, this was good news.
"I'll take a kayak out then."
One of the hotel managers joined the conversation.
"We can send an activity director out with you. It's farther than it looks."
This did not fit my vision of myself as a fearless explorer and I insisted on going alone.
A little crowd of hotel staff gathered around me, looking doubtfully at my pale spindly arms.
"Don't worry," I promised. "If I can't make it, I'll turn back."
Finally, they worked out a compromise.
"If you are in trouble," said a petite girl, "you must wave your paddle. We will watch you all the way."
After they'd carried the kayak down to the beach, helped me on with a life jacket, fastened it up and splashed into the water to push me off, I paddled away furiously, skimming over calm turquoise water.
After a while my arms grew sore. My thumbs blistered so I tried paddling with my fingertips. I was tempted to drift for a while, hanging my feet in the water, but I was worried this would trigger a rescue party.
After what seemed like hours, but was probably more like 45 minutes, Koh Suwan loomed into view, its rocky beach a mere slip of space between shore-hugging mangroves.
I hopped out, pulled the kayak up beside a barnacle-covered sandal and noticed I wasn't alone. An American man and a Thai woman were already here. They'd set up a little picnic on a twisted tree trunk, and from the pained looks they were exchanging, it was clear I was intruding. While part of me felt dreadful about kayaking into their romantic picnic, they'd ruined my Robinson Crusoe fantasy, too.
"Hey, I'm sorry I'm here," I said. "But I didn't expect you either."
They laughed and we made an unspoken pact to ignore each other more pleasantly. Stepping behind them, I tried to forge a route along the shore, but the tangle of mangroves was as thick as steel wool. Backtracking, I found a narrow grassy path that dissected the island's two palm-covered humps.
In a few minutes I'd crossed the island. The far shore was wilder, exposed to the open sea. Waves splashed up onto jumbled slabs of rock. Gingerly, I stepped forward, but stopped when I spotted the tip of another kayak. Someone had beat me here, too. Resigned, I headed back to my kayak and started paddling back. With nothing left to prove, I meandered slowly, zigzagging and stopping to trail my hands in the water. Eventually, to the relief of the hotel staff I drew up to the beach. I may not have found a deserted paradise but at least I'd completed the trip. Two islands down, 50 more to explore.