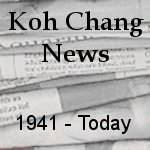 13 March 2007
Royal Irrigation Department (RID) agrees to increase the capacity of Kao Rakum reservoir to solve drought and flood situation in Trat Province, while viewing that Koh Chang should have its own reservoir on its island.
Today (March 13), Trat Deputy Governor Rapee PhongBupakij has presided over the opening ceremony of the second provincial seminar. The meeting will focus on the capacity of Kao Rakum reservoir and its capacity in discharging water to Koh Chang. All relevant people and agencies are invited to join the seminar.
RID Region 9 has engaged Research and Consultancy Institute of Thammasat University to study on whether the department should increase the capacity of Kao Rakum reservoir or not. The study has also provided information to RID for consideration on whether it should send the water from the reservoir to Koh Chang or not.
According to the study, releasing water from Kao Rakum province to koh Chang should not be implemented as the cost of the operation is too high.