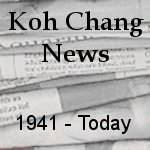 23 Nov 2007
Financial Mail (South Africa)
If you thought a trip to Thailand entailed Bangkok for the shopping and Phuket for the beaches, you will be pleasantly surprised by the province of Chiang Mai and the island of Koh Chang, finds Yvonne Fontyn
If you have been to Bangkok, Phuket or Pattaya before, you have by no means exhausted the delights of Thailand. There are gems to be found off the beaten track in the north western province of Chiang Mai and on the island of Koh Chang.
Chiang Mai – where Thailand's second-largest city, also called Chiang Mai, is found – hugs the Burmese border and is a little cooler, with more dense vegetation. When we visited, the monsoon was ending and night temperatures dropped.
Koh Chang was discovered by tourists only five years ago. It is a busy, thriving island holiday destination, and there is building everywhere. In both these places the Thai dedication to doing business and providing service is evident, whether you are at a sprawling night market or in a five-star resort. A hotel employee's " sa-wat dee ka" as he passes you, hands in prayer position, comes across as heartfelt. A stallholder's eagerness to show you the entire range speaks of energy and a comprehension that service is vitally important.
Thais in the tourism business have a lot going for them. The country is indescribably beautiful: thick vegetation is punctuated with exotic, bright blooms; wreaths of mist hang over green hills during the monsoon; ornate temples peek through jungle foliage or rest on hilltops; golden beaches are washed by a tranquil, warm ocean. As part of the Asian boom, Thailand boasts world-class hotels and airports, and good roads. And yet unspoilt, traditional Thailand is not difficult to reach.
The food, of course – packed with health-giving herbs and spices – is a subject on its own.
In Chiang Mai we stay at the stupendous Four Seasons Resort, about an hour's drive from Chiang Mai. Set among 8 ha of landscaped gardens, palms and rice paddies, it is an experience. After the afternoon rain, pagodas shimmer in the full ponds. In the evening, as buggies ferry us to dinner at the cooking school, huge lanterns gleam in the trees.
At the open-air cooking school, the chef has been busy all afternoon, laying out ingredients and sculpting delicate ducks from radishes and roses from melons. I am intrigued by the lychees immersed in a big vat of vodka, but order a sensible glass of Thai chenin blanc – very drinkable. Our hostess, Chompunut Israsena, tells me grapes grow all year round in Thailand and there are several wineries.
Hotel guests can do a number of cooking courses, including spicy salads, traditional soups and noodles, Thai curries, appetisers and a chef's selection. There are courses for children, too.
Like many chefs, ours has a competitive nature; he presents us with a mind-boggling 15-course meal. The tastes and textures are overwhelming to the senses, and the herbs and spices define Thai cuisine: lemon grass, chilli, fresh ginger, coriander. The balance, as always, between hot, sour, salty and sweet.
The Four Seasons is sealed off by mountains and foliage from anything noisy or brash. Just reclining on the patio of our elegant villa, sipping a Singha lager and gazing out over rice paddies at the two peaceful resident water buffalo is relaxation enough, but there are also yoga retreats, a tennis club and the spa.
The resort tailors sightseeing packages for guests, providing a vehicle and a guide. So early the next day we meet our affable and knowledgeable guide, Adul Mahawan, and head out in an airconditioned bus to explore the province. Our first stop along the Mae Rim-Samoeng route is an orchid farm which houses some of Thailand's 500 species. As we walk with our umbrellas through the tunnels of flowers, raindrops plop and slide off the waxy blooms. They are an intense concentration of colour – vivid purple, cerise, burgundy, yellow.
En route, Adul entertains us with a remarkable range of topics. Facts and figures of Chiang Mai are followed by an analysis of the opium industry – pre- and post-1949 – when the government outlawed it; the eccentric lifestyles of some Burmese tribes; and how and why boys become Buddhist monks.
Later on the trip, strolling past the bars of the Koh Chang strip, I realise he has not mentioned a major Thai industry: the sex trade. Here, in among the hill tribes, live the impoverished, poorly educated girls and women who will go of their own accord or be coerced to the cities to supply a seemingly endless market.
It is still raining and I am wearing hiking boots and a rain jacket. They were bulky to pack and seemed excessive for temperatures in the high 20 °C but today I am glad I have them – especially when we arrive at the elephant sanctuary, ankle-deep in mud. "Sanctuary", we realise, is not an accurate description for this place, where the animals work for a living. The atmosphere is frenetic, the mud churned up as mahouts loudly urge their enormous charges down to the river. Here, eager tourists climb aboard for an hour-long ride through the jungle.
At the same time, a crowd is seated for a show. A dozen or so animals file in to do tricks with hats, play football and "dance". One particularly "gifted" elephant is given a brush and paints a convincing picture of a tree with colourful blossoms. It is an extraordinary feat but we wonder, we agonise: how are they trained? Each mahout has a switch with a hook which they use at will.
The elephant sanctuary emphasises the wretched duality of tourism; if they did not perform for tourists, these animals would not have a role and would probably not be protected, says Adul.
Somehow we think a ride on the bullock cart will be less upsetting, but as the poor beast strains uphill, we feel glum and overprivileged. The cart stops at some stalls, where villagers sell scarves, handbags, jewellery. Each stall has identical wares, most of them mass-produced, and this is common in the Thai markets. But it makes for good bartering if you can say the man next door has a better price.
Our guides have told us to barter goods down by about 15%. I try this out at the Chiang Mai night market and it works. Usually, there is the codicil, "Well, I do this for you," or "OK, because the weather is bad and there are no customers." I buy a two raw silk wraps for 750 baht (R150) and a handsome, slim, wooden Buddha for 250 baht. The man who sells me the Buddha is American, his wife Thai. "I've had it with living in the West," he says. The market is lively and bustling at 10.30 pm and I'm beginning to see what he means.
The island of Koh Chang
It's a two-hour flight to Bangkok, then a four-hour bus trip and hour-long ferry to the island of Koh Chang. Coming back, we fly from nearby Trat.
Koh Chang is booming and the word is: get there before it becomes as commercial as Bangkok. It's an island with everything: gorgeous golden beaches; accommodation from cheap huts on the beach to the five-star Amari Emerald Cove, where we stayed; watersports, from scuba-diving to kayaking; jungle hikes; fishing trips; elephant trekking; bars, clubs, restaurants and shopping.
Traditional Thai massage is on offer on the Koh Chang "strip" – the main road – in spartan shops. You pay 250 baht for the Thai massage – where the therapist gets onto the bed and manipulates your limbs, not without pain to the punter – and 300 baht for the aromatherapy massage. I found a charming massage "parlour" under a grass roof on the beach, where a square-jawed girl with a husky voice gave me a workout. She kept up a repartee with the other girls, making them laugh as they worked. It was all very cheap and cheerful; no tinkling wind chimes or hushed talk of crystals here.
The Amari Emerald Cove, with its loungers overlooking a perfect beach, and long pool with a huge reclining Buddha, is an island within an island. You could spend days just enjoying the early-morning yoga classes; the spa; happy hour at the poolside bar, where the staff proudly present two florally adorned cocktails for the price of one; and dinners that are a homage to all the Thai specialities.
Finding a place to eat on the strip, though, is part of the fun. You needn't eat Thai every night either; we ate pasta at Il Vito, which was beyond reproach except being adjacent to a thumping disco. Not a happy match, but from the laughter on the other side of the grass divide, we gathered happier meetings were taking place there.
My first taste of Thailand was heady with exotic flavours, colours and sensations. I wonder whether busy Bangkok and Phuket can match up.
Quite a few people combine Chiang Mai with Koh Chang as it's easy to fly down from CM ito Bangkok   in the morning on a budget carrier,   and then take a bus from Bangkok Airport to Koh Chang and arrive here   late afternoon.