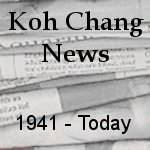 Nov 17, 2007
Suvanabhumi airport's opening could have a shock impact on the development of the eastern and central regions, academics and private sector commentators told a seminar.
Thongchai Sangkeo, of Rambhai Bharni Rajabhat University's faculty of agriculture in Chantaburi, said the airport would inevitably lead to "speedy and strong impact" on eastern region development which included Chon Buri, Rayong, Chantaburi and Trat.
He said tourists would flood into nearby Pattaya and Koh Chang while labour would move into eastern provinces and perimeter provinces such as Samut Prakan and Chacheongsao.
Koh Chang could end up being over-exploited by tourists, as tourist numbers were likely to increase. The airport would shorten the trip to the eastern provinces.
"Koh Chang could become a second Pattaya where all the nightlife fun is based on Western culture," he said.
Foreign businessmen could snap up land on the island and drive up prices.
The government should plan and monitor the development of Koh Chang and the eastern region as a whole.
Mr Thongchai was speaking at the National Economic and Social Development Board seminar on the future direction of central region development under the tenth National Economic and Social Development plan, which will be adopted in October 2006.
Lot's of things could happen but becoming another Pattaya isn't one of them. No signs of the opening of Suvarnabhumi Airport leading to Koh Chang being flooded with tourists yet.