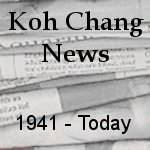 Jan 23, 2007
In more ways than one, Koh Kood may be the last island resort on Thailand's expansionist tourism map.
Situated 80 kilometres south of Trat City and only 30 kilometres west of the Cambodian border, Kood is the kingdom's easternmost and literally last island resort in the Gulf of Thailand.
And with a land mass of 129 square kilometres, Kood is the last sizeable island – it is the fourth largest after Phuket, Chang and Samui – to be targeted by Thailand's tourism industry.
Problems with access have thus far saved Koh Kood from falling victim to the kind of construction frenzy that has seized nearby Koh Chang, but even so the island is far from virginal territory.
"When I bought property here five years ago there were only about four resorts on Koh Kood; now there are more than 30," said Boonchuay Kulsirvarathai, owner of the Siam Beach Resort at Bang Bao, a protected bay on the south-west coast that boasts one of the island's most beautiful white-sand beaches.
The island is already a lost paradise for backpackers.
"We were here a year ago and paid only 400 baht (11 dollars) for a beachfront bungalow," said Rudy, an Austrian traveller staying at Siam Beach Resort. "Now everything is 1,500 baht (42 dollars) and up."
The upmarket trend is in keeping with the government master plan for Kood, which has been designated as an "exclusive zone," meaning "exclusively" for well-off tourists.
"Right now there are a lot of investors going to Koh Kood because unlike many other islands it is not a national park, so it is relatively easy to buy land," said Chuchart Oncharoen, director of the Tourism Authority of Thailand (TAT) office in Trat.
Some of the new investors are upmarket indeed.
Sixth Senses Resorts & Spas, a Bangkok-based hotel group, has bought a 150-hectare-plot of land in Yai Ke Bay, on Kood's western coast, that will offer 46 pool-villas (each 400 to 770 square metres) that start at 40,000 baht (1,111 dollars) and go up to 10,000 dollars a night.
Soneva Kiri, which plans a soft opening in October this year, will also be selling 32 four-bedroom residential villas on its property.
Sixth Senses is building a small airstrip on nearby Maisi Island to handle a 12-seater Sesna plane to bring its exclusive clientele from Bangkok directly to Koh Kood.
"We like to build our Sonevas in inaccessible places but make them convenient to get to," said Ray Hall, chief marketing officer for the Sixth Senses Group.
The group chose Kood for its first Soneva resort outside of the Maldives because it met its criteria of offering "inaccessibility, being close to nature and has vast personal space," said Hall.
Thailand's Central Group, which operates Central Department stores and the five-star Central hotel chain, has purchased a plot of beachfront property at Phrao Bay, on the southern tip of the island, although construction is not yet underway.
But so far most of the resorts on Koh Kood are in the medium-price range, charging between 40 to 80 dollars a night with many of them offering reasonably priced three-day packages including room, board and a day-trip.
The Ao Phrao Beach Resort, for instance, is doing a roaring trade attracting hordes of Russian tourists from Pattaya beach on three- day, two-night excursions for 5,000 baht (139 dollars) per person.
"The Russians are good customers. They keep to themselves and they don't complain about the variety of the food the way Thai customers do," said Samlueng Boondaeng, 65, a Kood native whose family turned their beachside coconut plantation into the Ao Phrao Beach Resort six years ago.
Popular day-trip excursions on Kood include treks in the island's forest, which although not classified as national park seem in much better shape than most national parks in Thailand, and mini-bus or motorcycle tours to Klong Chao Waterfall and the Fisherman Village (more appropriately named "Pirates' Village" in Thai) on the northern coast of the island.
Piracy and Peter Pan fantasies appears to be a popular theme on Kood, judging by some of the resorts names – Captain Hook Resort, Peterpan Resort and Neverland Beach Resort.
While the island is famed for its crystal clear water and shallow white-sand bays, it has no coral reefs to attract snorkelling and scuba diving enthusiasts.
But for snorkelling and diving one can take a boat to the nearby Koh Rang island chain which boasts some of the most beautiful reefs in Thailand and is a protected marine park.
For backpackers, scared away by Kood's rising prices, cheaper accommodation can be found on Koh Mak, about 10 kilometres north-west of Koh Kood, and some of the smaller islands surrounding it.
"Nowadays the backpackers are going to other islands like Koh Wai where you can stay for less than 500 baht (14 dollars) a night," said TAT's Chuchart.
Getting There: If you're not booked at the Soneva Kiri, go to Trat city, either by car, bus of Bangkok Airways. From Trat, 260 kilometres south-east of Bangkok, one can take a speed boat from the Dan Kao Pier, leaving at 10 a.m. every day, to Koh Kood for about 25 dollars round trip.
Alternatively, go to the Ngam Sok Pier, just 25 kilometres outside of Trat, and take a slightly faster speedboat to Koh Kood for 30 dollars.
Fortunately, Koh Kood might be saved from over development by way of it's out of the way location, which means getting to the island is a hassle and with no car ferry and very limited roads on the island it will be a while before hordes of Thais are driving there. But still worth visiting sooner, rather than later.